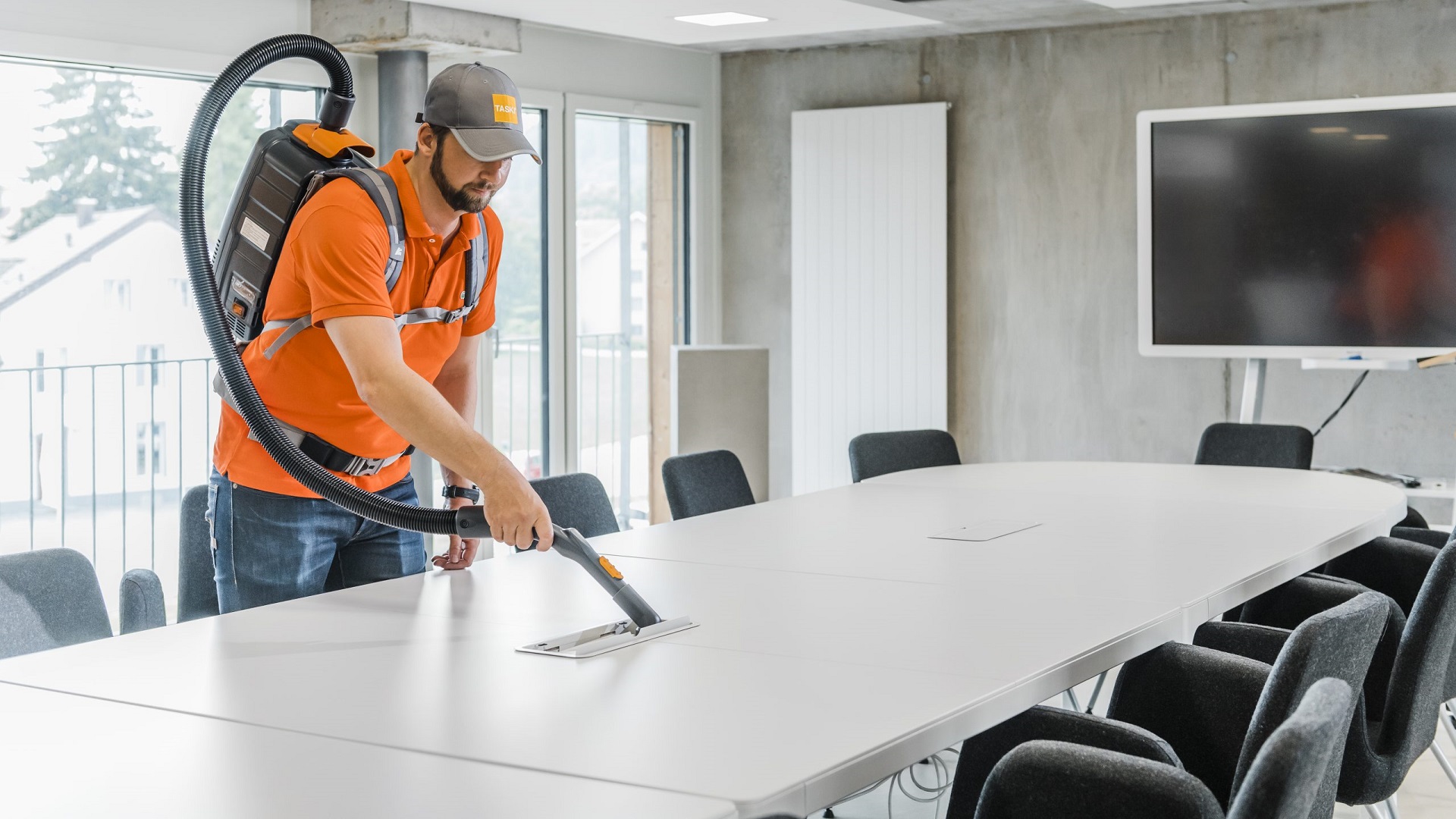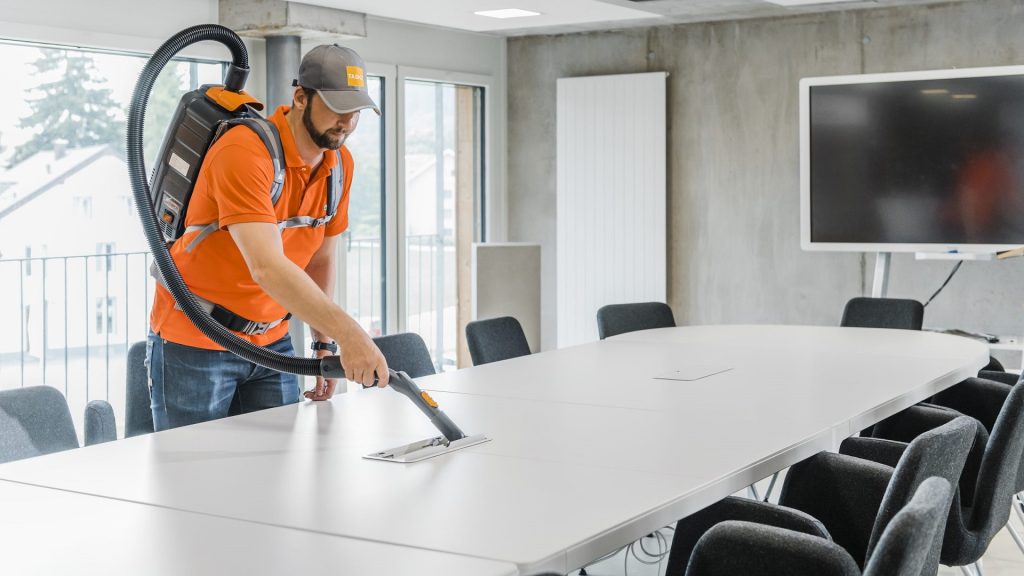 Best Backpack Vacuums For Quicker Cleanups
Last updated:
March 17, 2022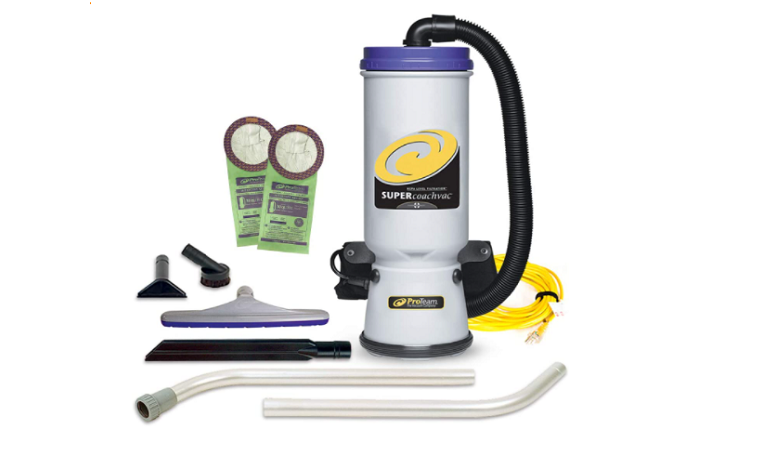 EDITOR'S CHOICE

ProTeam Super CoachVac
Large capacity
Accessories included
Improved cleanliness
CHECK LATEST PRICE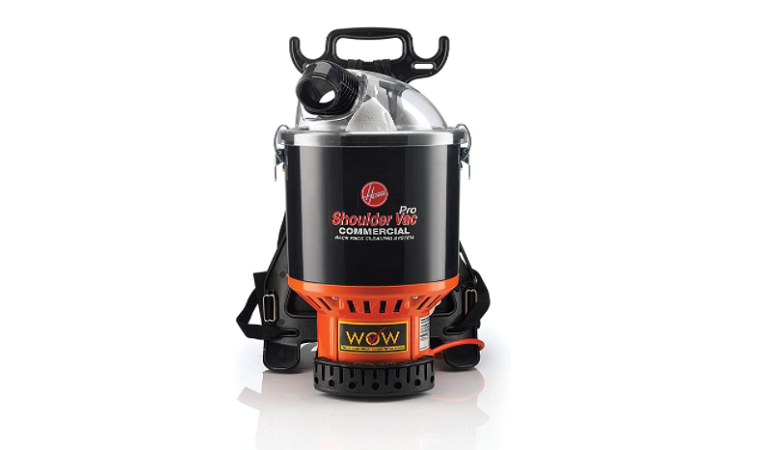 EDITOR'S CHOICE

HVRC2401 Backpack Vacuum
Lightweight
Quiet operation
Extra long
CHECK LATEST PRICE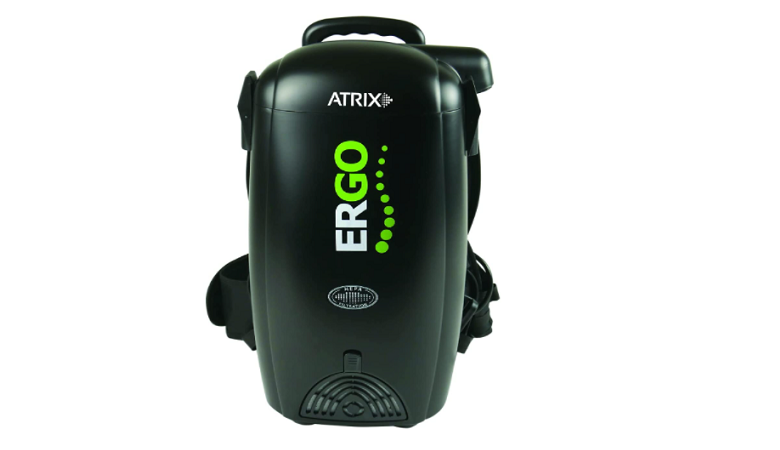 EDITOR'S CHOICE

Atrix HEPA Backpack Vacuum
Convenient
Ergonomic
1400 Watt
CHECK LATEST PRICE
Cleaning your home with a vacuum cleaner can sometimes be awkward and difficult to do, especially if your existing vacuum cleaner is heavy and chunky. That's why you should consider a backpack vacuum cleaner.

But what is a backpack vacuum cleaner, exactly? A backpack vacuum cleaner, as its name suggests, can be carried as a backpack. This makes it easier to move around when cleaning a large area even if there are obstacles such as furniture in your way.  
With this in mind, let's explore what you need to know about backpack vacuum cleaners. Here are five of the best ones on the market that you should consider if you want to make vacuuming your home easier.
Best Overall: ProTeam Super CoachVac
With a 10-quart filter, this backpack vacuum cleaner has a large capacity. It has up to three times the capacity of a regular upright vacuum cleaner, so it's ideal for you if you have a large home.

It comes with four-level advanced filtration with HEPA media filters. This cleans the air so that your home is healthier to live in. It's also been certified Gold by the Carpet and Rug Institute.

While this vacuum cleaner is strong and powerful, it is also quiet. It emits noise that's 66 dBA, so it's considered to be the quietest model in its class.
It's worth noting that this vacuum cleaner comes with a 50-foot long power cord, which makes it ideal for large areas, such as college campuses and schools. 
This best commercial backpack vacuum cleaner comes with a variety of accessories included, such as a crevice tool, a 14-inch Xover multi-surface floor tool, a dusting brush, an upholstery tool, a telescoping wand, a static-dissipating vacuum hose, and two Intercept Micro Filter bags.
While you might think a commercial backpack vacuum cleaner is too professional for home usage, it's worth considering as it will make cleaning your home much easier.
Runner-Up: HVRC2401 Backpack Vacuum
Its harness has actually been designed by a chiropractor to ensure that you feel comfortable while using it and reduce your risk of strains. With its 48-foot power cord, this backpack vacuum ensures you can clean a large area without any problems.
But, it goes one step further: it offers a three-wire quick change power cord so you can switch outlets with ease!

This backpack vacuum comes with accessories to make your cleaning tasks much easier, such as a 11-inch turbo floor tool, a crevice tool, a dusting brush, and an upholstery tool. This is an all-round model that gives your living space a professional clean.
One of the great features about this backpack vacuum cleaner is that it comes with a cleaning accessory pack that includes easily accessible equipment so you can ensure detailed cleaning to keep your home in great condition.
You won't have to worry about dust bunnies and debris collecting in difficult-to-reach places anymore, as this backpack vacuum has a super-long reach so you can keep your home immaculately clean. This is something that you can't always achieve with other types of vacuum cleaners. 
Alternative: Atrix HEPA Backpack Vacuum
With its 1,400-watt cleaning ability, this small vacuum cleaner is powerful. It offers four levels of filtration with an 8-quart HEPA bag, keeping your indoor air hygienic.

One of its best features that set it apart from other backpack vacuums on the market is that it can be used in a left-handed or right-handed operation, making it easier for you to feel comfortable when using it.

It also easily converts to a blower so you can get more cleaning functions out of it.

It comes with a nozzle, a crevice tool, and a HEPA filter. This backpack vacuum cleaner is not just reserved for cleaning your floors as it's designed to be used for stairs, blinds, and draperies. It therefore gives you a comprehensive clean. 
Alternative: Prolux 10 Quart Blue
What you'll love about this vacuum cleaner is that it's powerful enough to lift 120 inches of water, so it has excellent suction power to help you remove lots of dirt and debris from your home. In addition, it's designed with three-stage filtration with the use of an advanced sealed HEPA filter.
This vacuum cleaner has a filter that's larger to trap more dust and improve air circulation for better suction. This makes it ideal for your home if you suffer from allergies. It comes with a large 10-quart bag size that lasts for a long time.
For increased comfort and safety during use, this vacuum cleaner has secure filter latches to keep them in place and prevent any dust from being released back into your indoor air.

This backpack vacuum cleaner comes with accessories such as an upholstery tool, a crevice tool, a duster brush, as well as deluxe multi-surface tools so you'll have everything you need when cleaning your home. 

Alternative:Blue 8 Quart Backpack Vacuum
It only weighs 10 pounds and comes with a cord that's 25 feet long, so your movements won't be restricted while vacuuming your home.

With its four-stage filtration system that makes use of HEPA filters and durable bags, this backpack vacuum cleaner keeps your indoor air clean and hygienic.

The harness of this backpack vacuum cleaner has straps that are two inches wide so that they make the vacuum cleaner comfortable to wear. This best backpack vacuum cleaner has seven accessories included in the pack to meet your cleaning needs. 
This vacuum cleaner's hose can be attached to an exhaust port so that you can use it for blowing and inflating tasks. It's focused on giving you a more convenient way to clean, and it's light enough to carry so your cleaning tasks can be easier to get through.

With its dimensions, this vacuum cleaner will be easy to store in the home, such as in a closet or cupboard. 

Still want some information about backpack vacuum cleaners to find out if one is right for you? Here's what to know about these vacuum cleaners so that you can be sure you're getting the right one for you and what flooring surfaces you intend to clean. 
Are backpack vacuums better than upright?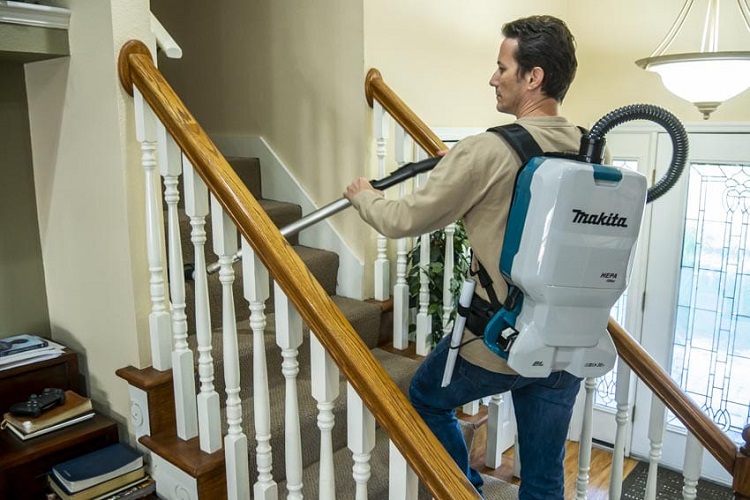 While you might be used to an upright vacuum cleaner, there are some important differences to know about upright vacuum cleaners versus backpack vacuum cleaners.

A backpack vacuum cleaner has some advantages over an upright one, such as that it's been found to cover up to five times the square feet of a surface area that an upright vacuum cleaner can achieve, within the same amount of time.
Backpack vacuum cleaners are designed in a tank style and they don't contain components such as belts or beater bars, which means that they're lower maintenance than other types of vacuum cleaners.
While this is a good thing, there's a downside attached to it – without the inclusion of a beater bar, a backpack vacuum cleaner won't give your home as much of a deep clean as compared to an upright vacuum cleaner
Some other advantages linked to backpack vacuum cleaners include that they can be used on a variety of floors including carpets, they come with a variety of tools and accessories, they can reach difficult-to-reach spots, and they are designed with HEPA filters.
However, some potential drawbacks include how backpack vacuum cleaners tend to cost more than upright vacuum cleaners, if you don't wear the backpack vacuum cleaner properly it can make your back hurt, and sometimes these backpack vacuums don't come with tools for removing debris from thick carpets. This can make cleaning carpets a little trickier.

By comparison, an upright vacuum cleaner needs to be maintained more than a backpack vacuum cleaner and it isn't as effective at cleaning hard-to-reach places. That said, upright vacuum cleaners are better for cleaning dust and debris from deep carpets, as a result of their beater brush or bar.
This is something to consider before purchasing a new vacuum cleaner so you get one that meets your cleaning requirements.  
How much does a backpack vacuum weight?
Backpack vacuum cleaners don't weigh a lot. This is to ensure that they are comfortable to wear while you clean your home. Many backpack vacuum cleaners weigh less than 20 pounds to ensure comfort during use and to minimize issues such as back pain.
As we've seen in our reviews of backpack vacuum cleaners, some backpack vacuum cleaners weigh as little as around nine pounds.

Still, this might be too heavy for some people, such as if you have lifting or mobility issues, so that's something to consider before purchasing a backpack vacuum cleaner.

By comparison, upright vacuums can weigh between 13 and 18 pounds, because they come with large dust bags. Remember that having extra accessories and tools will increase how much the vacuum cleaner weighs. 
This is therefore something else to consider when checking out the weight of a vacuum cleaner, whether in-store or online.
Do backpack vacuums work on carpet?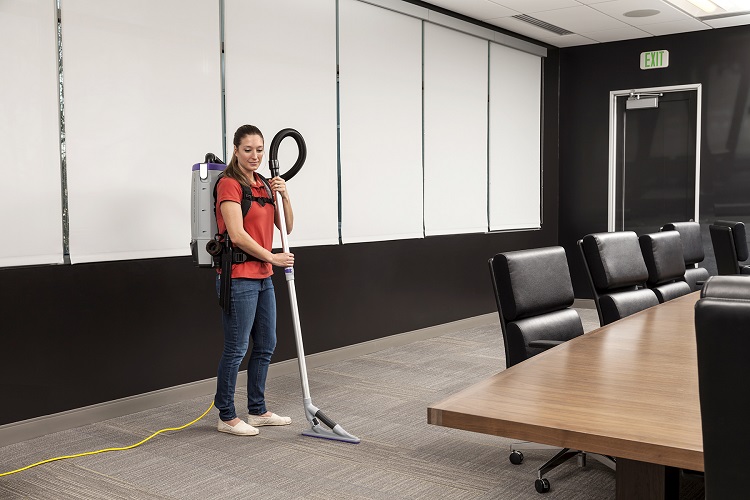 As we've seen in our reviews of the best backpack vacuums, they sometimes battle to clean carpets and rugs effectively. This is sometimes as a result of them not having a beater or brush bar, as is the case with other styles of vacuum cleaners, such as upright models.

You might find that a backpack vacuum cleaner struggles to clean plush, thick carpets. Therefore, it's probably best for you if you don't have such carpets in your home.
If you do own carpets, however, you shouldn't immediately assume that all backpack vacuum cleaners will not give them a deep clean.
Some backpack vacuum cleaners do come with features that enable you to clean your carpets, such as the Atrix HEPA Backpack Vacuum we featured in our review. This vacuum cleaner has a carpet attachment tool so that you can effectively clean carpets and rugs in your home. 
Before choosing a backpack vacuum cleaner to purchase, make sure that it's described as being good for carpets and that it comes with a carpet attachment tool that you'll be able to use.

How do you clean a backpacking vacuum?
You should check the micro filter and cloth filters of the vacuum to ensure they're not too dirty or clogged, which can compromise your vacuum cleaner function. You can do this on some models by removing the hose from the top of the canister. Replacing the vacuum cleaner's filters on a regular basis will ensure that you keep it working optimally.

When cleaning the filter of your vacuum cleaner, turn it upside-down into a garbage receptacle that's got a plastic liner. Close the liner around the opening of the filter. Doing this prevents debris and dust from floating into the air.
Shake the filter into the receptacle liner until it's been emptied. If the filter is clogged, that's a sign that you need to throw it out so that you can replace it with a new, clean filter. 
It's also important to note that you have to clean your dome filter and HEPA media. To clean your dome filter, shake it out and rinse the foam filter before allowing it to air dry. This should be done once weekly, unless you don't use your backpack vacuum regularly.
When maintaining HEPA media filters, check them once a month. If you can see that they've become discolored, you should replace them.
While you might think of upright vacuum cleaners as being ideal for your home, before you buy a new vacuum cleaner you should consider a backpack vacuum cleaner for the home. 
In this article, we've featured some of the best backpack vacuum cleaners and why they're worth it. We've also looked at some important information you should know about using a backpack vacuum cleaner, such as how to clean your backpack vacuum cleaner to keep it in good condition. 
Resources: