Have you ever noticed that vacuuming your home can be quite a workout? It's like going to the gym and you're likely to work up a sweat while burning calories, but the reality is that this is not always a positive thing, such as if you have mobility issues or painful health conditions.  
Is vacuuming hard on your body? Since you keep your spine rigid for a long time while vacuuming, this can worsen arthritis-related problems in the spine or make your lower back curve which causes aches and pains.
With that in mind, you need to purchase the best lightweight vacuum cleaner for the elderly and people with mobility issues.
The great thing about these units is that you can also purchase them if you're young and fit – because why should you turn vacuuming into a stressful, energy-zapping task? Here's our guide to the best lightweight vacuums on the market. 
Best Overall: Shark HV343AMZ
For increased comfort during use, and to ensure that you can get through your vacuuming tasks much faster than before, this vacuum cleaner comes with a swivel steering function. It gives you greater control and enables you to move into hard-to-reach areas and corners. 
If you own pets, you'll know how frustrating it is to deal with pet fur and dander accumulating on the floor, so you'll appreciate that this Shark vacuum has a self-cleaning brushroll. It prevents hair from wrapping inside the unit. 
You can use this lightweight stick vacuum cleaner on a variety of floor types, including carpeted and hard floors. It's also great for cleaning your upholstery, which makes it a versatile tool that you'll use regularly around the home.
With its strong suction power, you'll feel you can get a clean home with less work. 

It's a powerful device that can suck up debris in carpets, which usually gets left behind with regular vacuum cleaners, but you can also use it on hard floors.

With all that power, you'll be glad to know this Eureka vacuum cleaner has five height settings. This means you can get the most comfortable position and suction power when vacuuming your floors.
No more bending over the machine and getting back aches, or struggling to get the device to glide across your floor.

This is one of the best lightweight upright vacuum cleaners for the elderly as it comes with all the accessories you need to clean your home deeply and more conveniently. These include a crevice tool, upholstery tool, and dusting brush.
They work well to reach into hidden areas and awkward spots where dust and debris can accumulate and remain unseen.

It's also built with a quick-release handle so you can use it without a hassle. It can be used for a variety of cleaning tasks around the home, such as cleaning your car, removing pet hair from the home, cleaning ceilings, and making your door frames look refreshed. 
Alternative: Bissell 2033
It comes with a crevice tool so you can clean your furniture as well as a floor nozzle for cleaning the stairs with ease. It easily switches from one tool to the other when required. 
With its detachable wand, this vacuum cleaner can be used to clean a variety of surfaces with greater speed and convenience. While this vacuum cleaner is designed for use on hard floors, it can actually be used to clean rugs and carpets too.
Plus, it's easy to assemble this vacuum cleaner so you'll be able to use it right away.

Since it has good suction power, you can use this vacuum cleaner for quick clean-ups around the home. It's the ideal lightweight device to reach for when you want to keep your home neat without breaking out in a sweat. 
Alternative: Eureka Airspeed Ultra
 It comes with a crevice tool and dusting brush. It's built with a 10.5-inch wide cleaning path so that you can get more cleaning done with fewer passes.

This vacuum cleaner is lightweight, as it only weighs 7.7 pounds, so you won't battle to move it around the home. Its lightweight and sleek build also makes it easier to store in the home when it's not in use. 
As a result of how it's built with a bristle brush (located inside the head of the unit), it works effectively to lift dust and dirt from a variety of floor surfaces, such as hard floors, shag rugs, carpets, and high-pile carpets.
It's therefore the best vacuum cleaner to own if you have lots of different floor types in your home as it will be up to the challenge. 
Alternative: INSE Cordless Vacuum Cleaner
This best vacuum cleaner has an 80-minute run time in standard mode and 40 minutes in max mode, which gives you a lot of time to clean your home without having to use electricity. It has excellent suction power, as it's designed with upgraded digital motors. 
This is one of the best lightweight cordless vacuum cleaners for the elderly because you can use it on a variety of floors, such as carpets and hardwood floors, but you can also use it on other items around the house to give them a good clean, such as furniture, curtains, and stairs.
Since it's cordless, it's also the best vacuum cleaner to use when you want to clean your car. 
To ensure you keep your living space clean and hygienic, this vacuum cleaner comes with a five-stage filtration system that includes a HEPA filter, a sponge filter, a strong cyclone, mesh filter, and stainless-steel strainer.
This works well to collect up to 99.99 percent of microscopic dust, keeping your home free of allergens. 
Lightweight Vacuum Cleaners For The Elderly FAQ
After reading the pros and cons of some of the best lightweight vacuum cleaners on the market, you now have a better idea about the model you should purchase.
However, you might have some questions about vacuum cleaners. Here's what you should know so you can use them in the most effective way to keep your home spick and span. 
Why is pushing vacuum hard?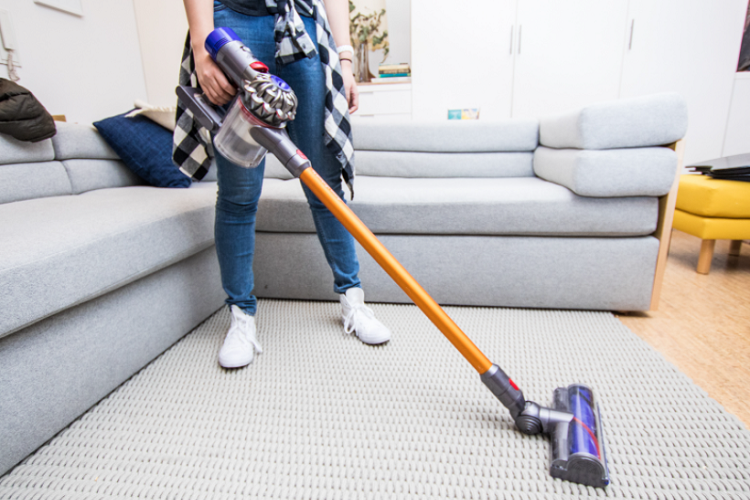 If you've ever used a vacuum cleaner only to find that it felt too hard to push, there are actually several reasons for this. Let's explore some of them. 
The vacuum cleaner's rotator brush is stuck. This can happen because fibers, such as long human hair or pet fur, have become stuck around the brush. This means it can't rotate. 
You're using the wrong height setting. The wrong height setting for the surface you're vacuuming can make the device struggle to move smoothly over it. For example, if you're cleaning a tall carpet, the vacuum cleaner should have a taller setting. 
Your filter is clogged or your dust canister is full. If you haven't cleaned out your vacuum cleaner for a while, it could have reached its full debris capacity. Give it a quick clean so that it can have more room for all the dirt you need to clean. 
You're cleaning a new carpet. If you've just laid down new carpets  in your home and you're using a vacuum cleaner on them for the first time, it's normal to find that they're difficult to clean. Again, adjust your vacuum cleaner's height setting to be sure that it matches the carpet you're cleaning. 
The vacuum cleaner is too heavy. You should always check that the vacuum cleaner you want to buy isn't too heavy. Note that if you're buying a water vacuum cleaner, you have to consider that it will be heavier when its water reservoir is full. 
The vacuum cleaner hose is broken. If the hose has become damaged, it can affect the suction power of your vacuum cleaner and prevent it from gliding smoothly on surfaces. Make sure you replace the hose as soon as possible. 
What is considered a lightweight vacuum?
Whether or not a vacuum cleaner feels lightweight can vary from one person to another. But, generally, a vacuum cleaner is considered to be a lightweight model if it doesn't weigh more than 15 pounds. 
However, we've featured vacuum cleaners that weigh much less than that. You can find ones that weigh around six or seven pounds –  or even less than that – and these are the best to purchase if you need a model that's as light as possible.

Lightweight vacuum cleaners have many benefits, such as that they're easy to handle and manoeuvre, and this reduces your fatigue while cleaning your home. Also, the lighter the vacuum cleaner, the sleeker it is, which will make it easy to store after use as it won't take a lot of space.
Are cylinder or upright vacuum cleaners better?
Both of these types of vacuum cleaners have their pros and cons. A cylinder vacuum cleaner has a suction head that's separate from the main unit which makes it ideal for cleaning hard-to-reach areas, such as tight corners and stairs.
However, it can be a bit bulky and more difficult to store. You should buy a cylinder vacuum cleaner if you have an awkwardly-shaped room and/or lots of furniture that you want to clean around. 
By comparison, an upright vacuum cleaner is ideal for cleaning large areas in the home. This is because it has a larger clearing area on the head of the unit which reduces the time you have to spend cleaning.
You should choose an upright vacuum cleaner if you have a large home or you have deep-pile carpets. This is because uprights have brushes that remove dirt from the carpet fibers more effectively. 
How long should vacuums last?
When you purchase a new vacuum cleaner, you'll want to know how long it will last. Vacuum cleaners can actually last for an average of eight years, although this can vary a lot depending on the brand and quality of the specific vacuum cleaner.

If you think your vacuum cleaner is broken, don't immediately assume that it's reached the end of its lifespan – you should first ensure that the problem isn't a broken component, such as a damaged belt, that can be repaired by a professional. This can help you to extend the lifespan of your vacuum cleaner.

There are some important maintenance tips to follow so that you can make your vacuum cleaner last longer. These include the following: 
Don't let its dust bag become too full as this will slow down the vacuum cleaner and clog it. Make sure you check the dust bag regularly and clean it when it's getting too full. 

Replace or clean the vacuum cleaner's filter whenever it has become dirty so that it can work effectively. 

Clean the motorized brush to remove tangled fibers, such as hair, as these put pressure on the motor, forcing it to work harder.
If you've ever experienced painful back aches and sore muscles after a vigorous vacuum-cleaning chore, you'll know that it's no fun. If you're a senior, you'll naturally want to avoid over-exerting yourself when you clean the house.
This is why you should purchase a vacuum cleaner that's lightweight and easy to manoeuvre around the home, so that you give your house a deep clean without hurting your body.

In this article, we've featured the best lightweight vacuum cleaners to buy, and we've also provided information about vacuum cleaners that everyone who owns one or wants to buy one should know, such as how to extend the lifespan of your vacuum cleaner and how to remedy the issue of your vacuum cleaner feeling too heavy to push.