If you own laminate floors, you might wonder if you can safely mop them. While laminate is a durable material, you have to be careful when cleaning it because it does require regular TLC and specific maintenance tips so that it continues to look its best.

How can you safely mop your laminate floor? You should ensure that the mop dries quickly. It's also a good idea to choose a mop that has a microfiber head.

With that in mind, read our upcoming review to find the best mop for laminate floors. We've got five different picks from which to choose, but make sure you check out their pros and cons so you make the best choice for cleaning your home. 
Best Overall: 18" Professional Microfiber Mop
You'll be able to remove pet hair, crumbs, debris, and dust from floors by using the dust mop in the pack, then you can use the wet mop heads to clean your floors so that they shine.

What's great about this mop for laminate floors is that it doesn't require the use of any chemical cleaners. Simply use water, and you don't even need a mop bucket. This is the perfect mop to reach for when you want a quick and easy clean, such as if your kids have made a mess and you have guests coming over.

This mop is easy to use as you just have to fasten the pads on the bottom of the mop frame. Adjust and lock the mop handle, and then you're ready to start cleaning.
For increased convenience when cleaning, and so that you don't have to switch between two cleaning devices, the mop can swivel up to 360 degrees so that you can use it to clean underneath furniture. 
One of the best features about this best wet mop for laminate floors is that it doesn't make use of a hook-and-loop strip that's glued onto the mop frame.
Since that is not durable, the manufacturers of this mop have ensured the hook-and-loop strips are recessed into the frame of the mop. This makes them last for a longer period of time. 
Runner-Up: Panda Grip Wet Spray Mop
This mop won't leave behind streaks or water marks because the spray mophead has good absorption capacity. This means you won't have to go over the same areas of the floor to clean it – you'll get it right on the first pass.

The mop head is nice and wide, so it will be able to cover a large area, therefore working in unison with the spray bottle mist. This makes it easier and quicker for you to spray your floor and mop it in less time.

This best spray mop for laminate floors is easy to use. Simply fill up its spray bottle that comes included in the pack, pull the trigger so that it will spray a mist of water, and then mop the floor.
The mop head has a rotating head that makes it easy for you to clean any area with greater ease. You can use this on your laminate floor, but it's ideal for use on a variety of floor materials, which makes it practical to own. 
You can use water alone to clean your floors or fill the spray bottle with your favorite cleaning solution, whether homemade or bought in the store. The bottle has 400ml capacity, so you'll have enough to get through your mopping chore with ease.
Alternative: EXEGO 360 Degree Spin Mop
One of the best features about this excellent mop for laminate floors is that the edge of the mop cloth contains raised cotton that cleans narrow, hard-to-reach areas while protecting your walls, skirting, and furniture.
It also comes with chenille mop pads. These are effective at cleaning your floor and making it dry faster, so you don't end up with streaks or puddles of water that take a long time to dry. 
This mop has a large cleaning capacity – it comes with a refillable water tank that can be filled up to 635ml. The bottle also enables greater ease of use. This is because it has a fan-shaped pump design so you can spray evenly and cover the entire width of the mop head.

You'll love that this commercial mop is strong yet lightweight so you can carry it around without a problem. You also don't have to worry about lugging a bucket with you while you clean. 
For easy storage after cleaning your home, this mop has a handle with a metal ring. This means you can hang the mop on the wall when it's not in use, thereby saving you space and preventing you from having to clear out space for mop storage.

Alternative: O-Cedar ProMist MAX
It makes use of microfiber to absorb dust and dirt particles, and you can use it to clean wet or dry. This is thanks to its versatile microfiber pad that lets you deeply clean your floors or dust them if you want a quick, dry clean. 
The mop head flips by 180 degrees so that you get double the coverage when cleaning, without you having to stop to reposition the mop. This is great for getting into tight corners.
Best of all, you don't need any expensive or chemical detergents to clean your home. This mop can be used with water alone to clean your laminate floors and it also removes up to 99 percent of bacteria, keeping your home more hygienic for your family.

However, you can also use detergents if you want, which gives you more options if you're dealing with stubborn dirt marks and stains. 
Alternative: Microfiber Spray Mop
Since it's made out of strong ABS material and aluminum, this mop will feel comfortable and light to use while also being durable. It comes with a convenient trigger on the mop that you can press when you want a mist spray to be released.

This mop head can rotate 360 degrees, which means you can clean your floors and other areas of your home, including the walls, windows, ceilings, and underneath furniture. It's therefore the mop to own if you want to deeply clean your home with less energy and more time to dedicate to other tasks.  
You can conveniently use this mop to either wet- or dry-clean your floors, thanks to how it comes with mop cleaning pads. You'll also receive three mop-replacement cleaning pads in the pack that are completely washable. 
The mop head has soft, flexible corners that will protect your furniture from damage while you clean your home. Since its made out of microfiber, this mop head has excellent dust removal, and you can use it to remove a variety of dirt types, such as pet hair.
It also absorbs water effectively, therefore preventing your floors from being too wet after you've cleaned them. 

Mop For Laminate Floors FAQ
After reading our reviews, you probably have a good idea of the type of mop you want to buy for your laminate floors. But there are some other things to know about how to mop this type of floor so that you don't damage it.
For example, can you use a spin mop on your laminate floor and what should you do if your laminate flooring is looking dull? Read on to find out. 
Are spin mops good for laminate floors?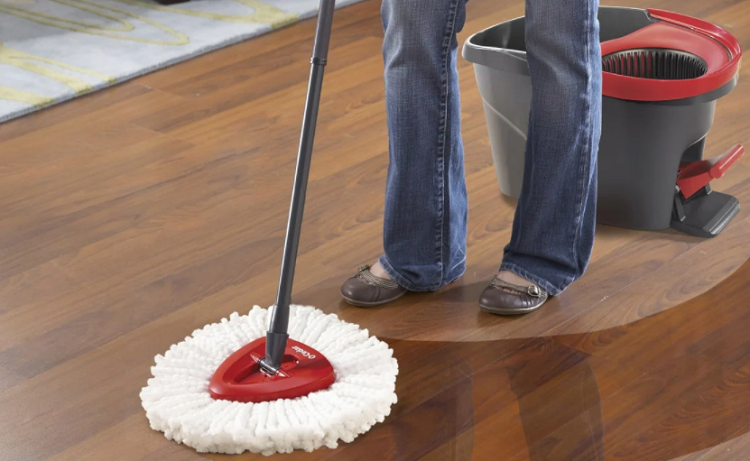 If you want to buy a spin mop, you can use it on your laminate floors. This is because spin mops dry the mophead well so that it's not too wet for your laminate floors.
This also enables you to clean your floor quickly because instead of dipping the mop in a bucket filled with water and then having to wring it out before mopping, the spinning mechanism of the mop removes excess water before it touches your laminate floor so that you don't end up with puddles of water.
That's really something you want to avoid when dealing with a laminate floor because excess water can damage laminate.
If you're interested in purchasing a spin mop, read our guide on how to choose the most effective one: "Best Spin Mop To Give Your Home A Deep Clean."
How do you clean laminate floors without residue?
To prevent residue and streaks from forming on your laminate flooring, you have to ensure that you clean it properly. This will also ensure that your flooring doesn't become warped or otherwise damaged.
Here's some important advice to know about cleaning your laminate floors so you keep them in excellent condition and squeaky clean. 
Eliminate spills as soon as they happen. If you don't wipe or mop these away, your floor will end up with stains. 

Don't use an abrasive cleaning tool. When it comes to your mop, for example, you should choose one with a microfiber head so that it's soft and won't scratch your floor. 

Avoid using too much water. You don't want the excess water to seep into the seams of the laminate and cause bubbling or swelling.
Why does my laminate floor look cloudy?
If you've noticed that your laminate floor looks cloudy instead of shiny and clear, this is usually caused by a build-up of floor cleaner, wax, or polish that you're using. These products cause debris and dirt to get stuck to them, which can make the floor look a bit dirty or dull despite your best efforts. 
This cloudy film can be removed by cleaning away the excess product that's causing it. Start by removing debris that could be present by sweeping your floor. Scoop up the dirt with a dustpan and brush.
Then, reach for a mop that has microfiber pads and clean your floor with a solution of one cup of ammonia that's mixed into one gallon of water. Wet the mop's pad and wring it out so that you don't have excess water.
Mop the floor with the damp mop. You might have to change or clean the pad a few times, depending on how much product buildup is on your laminate floors. 
You can prevent the cloudiness from reappearing on the laminate floor in future by using a microfiber mop pad that's a bit damp to clean it regularly. If you still want to clean your floor with a cleaning product, you should use a floor cleaner that's specifically produced for use on laminate. 
Does vinegar clean laminate floors?
While you might worry that your laminate floor will be damaged by vinegar, you can use this DIY ingredient on it. However, you have to mix it with water so it's not too strong.

All you have to do is mix one cup of household vinegar with one gallon of warm water. Use a damp mop that's not too wet when cleaning your floors because too much water can cause water spots to form on the laminate floor and it could even cause it to become warped.
The great thing about using vinegar to mop your floors is that it's an ingredient you probably already have in your kitchen and by choosing it you can avoid using harmful chemicals in your home.
If you have laminate floors in your home, you might wonder how to safely mop them clean. In our guide, we've featured some of the best mops for laminate floors, and the great thing about them is that they can usually be used on a variety of other floor materials without a problem.

In our FAQ section, we've also looked at some important information to know about laminate floors so that you don't damage them when trying to give them a good clean, such as how to prevent them from becoming dull as a result of too much product being used on them.
These are useful to read before purchasing a mop for laminate floors so you can buy the best one to make your floor sparkle.