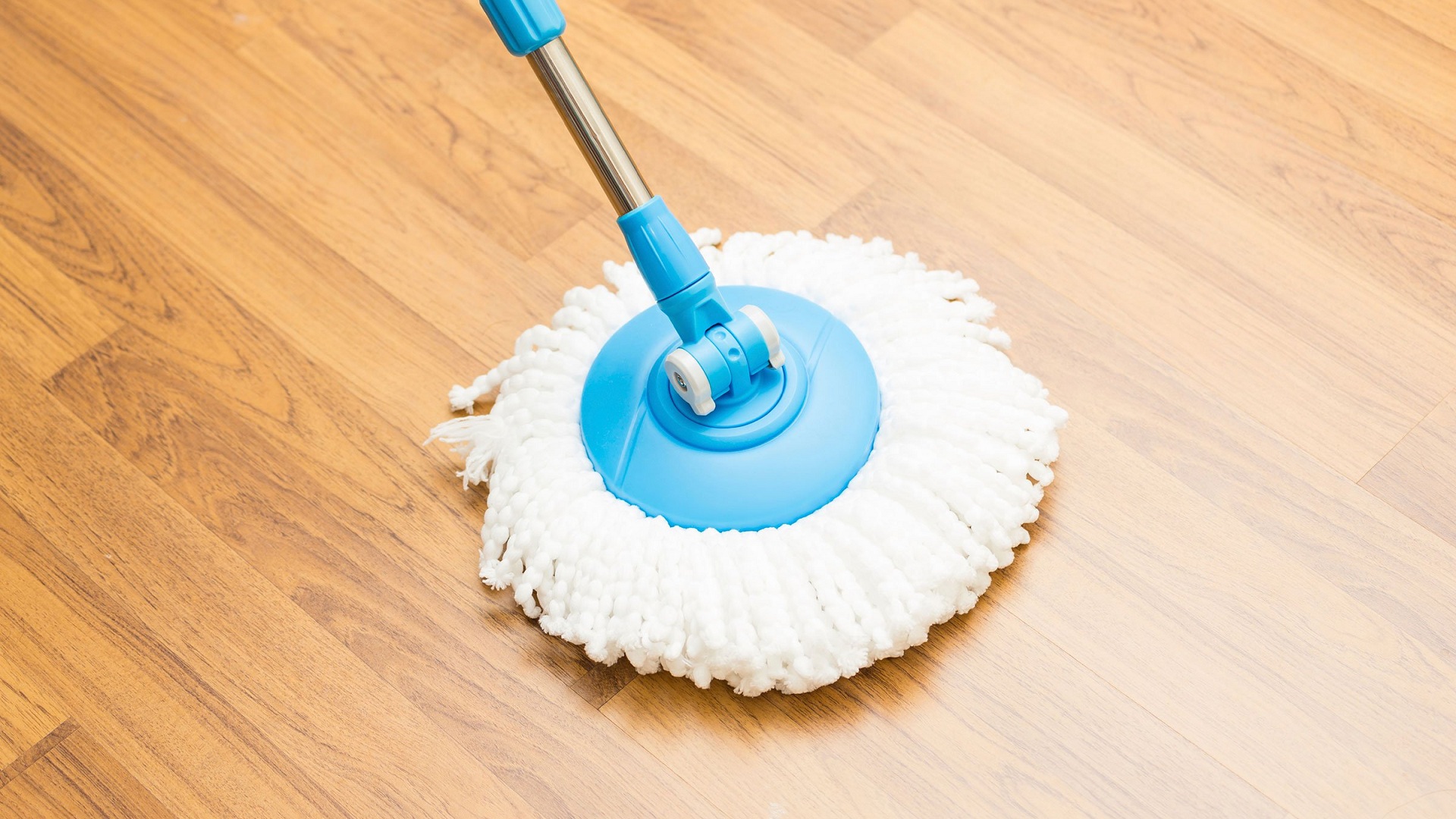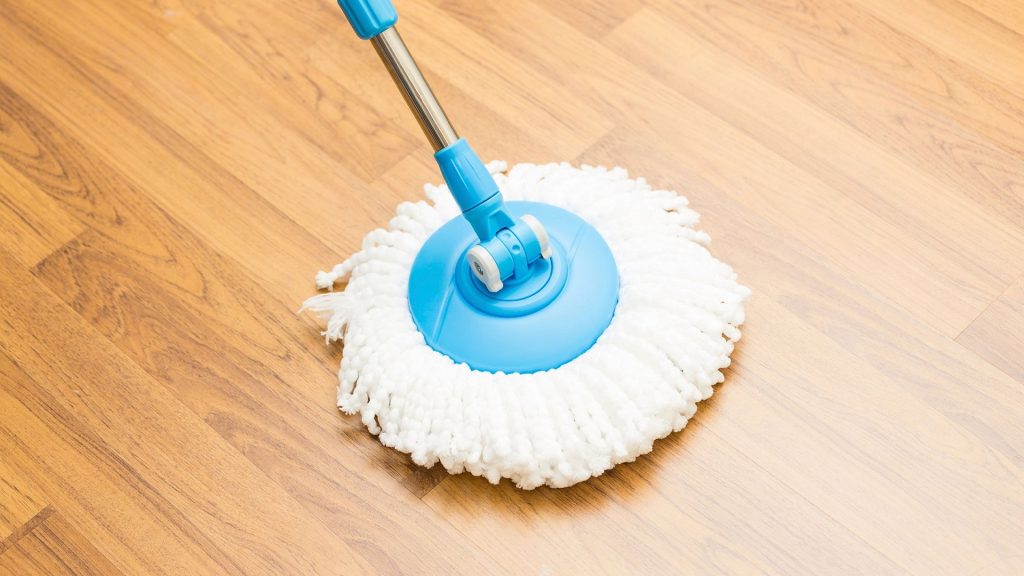 Best Spin Mop To Give Your Home A Deep Clean
Last updated:
March 13, 2022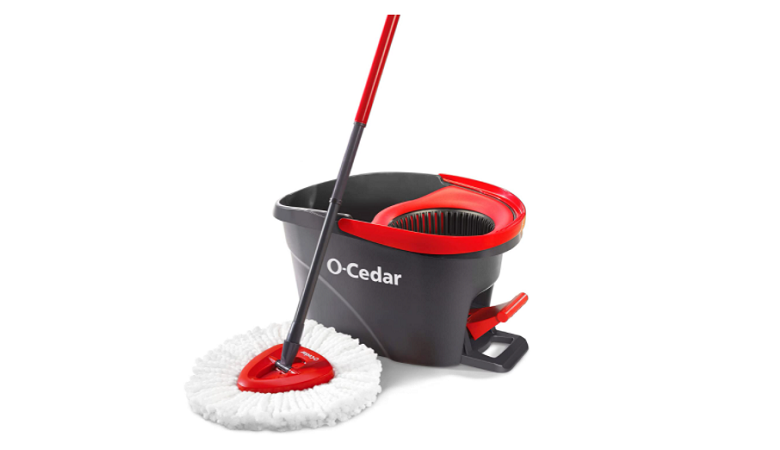 EDITOR'S CHOICE

O-Cedar EasyWring Microfiber
Hands-free wringling
Machine washable
Reaches in corners
CHECK LATEST PRICE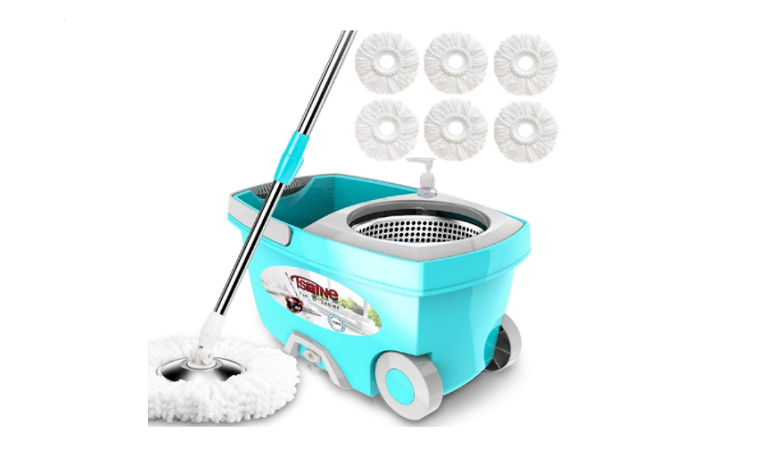 EDITOR'S CHOICE

Tsmine Spin Mop Bucket System
Quality material
Considerate design
Easy cleanup
CHECK LATEST PRICE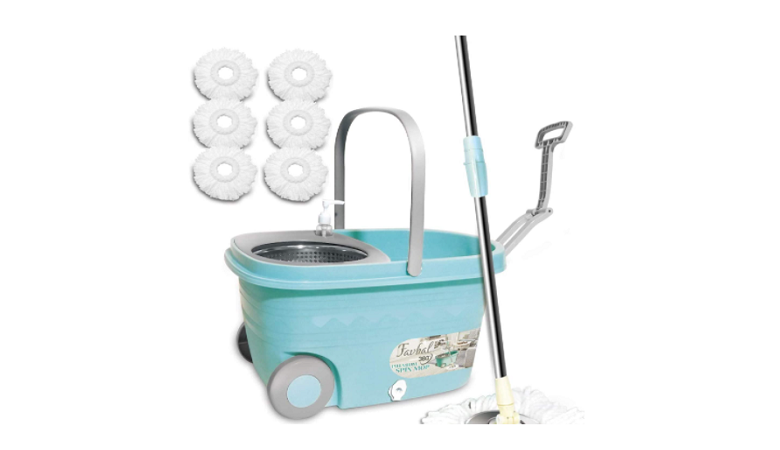 EDITOR'S CHOICE

Favbal Spin Mop Bucket System
Easy-to-read instructions
Comes with accessories
Self-wringling system
CHECK LATEST PRICE
Vacuuming your floors is not enough to ensure your home stays clean and hygienic. You need to use water to remove dirt and stains on the floor that can occur as a result of various factors, such as food and liquid spills, and to do this you need to purchase a spin mop.

What is a spin mop? A spin mop is a mop with circular heads made of microfiber that clean your floors effectively. It comes with buckets that have spinning baskets. These fling water and dirt from the head of the mop.
Which spin mop is the best one to buy? Read on to find out which spin mop will keep your floors beautiful, clean, and hygienic, and be suitable for your type of flooring. We've also got four other spin mops that are worth checking out if you want a deep clean for your floors so they look as good as new.
Best Overall: O-Cedar EasyWring Microfiber
This best spin mop on the market can be used safely on a variety of floor types, such as wood, hardwood, tile, vinyl, and laminate, so you'll be able to use it throughout your entire home.

This spin mop comes with a bucket that has a built-in wringer. This means you don't have to use your hands to wring the mop.
It also has a convenient Splash Guard, which prevents water from splashing outside of the bucket, such as when wringing the mop or carrying the mop and bucket to a different room in the house.
 
Since its head is made of microfiber, this is an absorbent and powerful mop that will effectively pick up a lot of dirt while easily being rinsed clean. For increased convenience, this spin mop comes with three extra mop head refills so you won't have to purchase refills for a long period of time. 

Runner-Up: Tsmine Spin Mop Bucket System
The spin bucket is built to last, thanks to its durable 304 stainless steel and polypropylene construction. The mop handle can be extended to up to 61 inches so you don't have to bend while mopping, which is great if you suffer from back aches. 
This mop bucket comes with two wheels to make it easier to move around, and it comes with a carry handle as well as a pull handle. This makes it even more user-friendly.

This spin mop itself comes with six microfiber head refills. The microfiber used to make these heads is very thin with a high level of absorbency. This makes it ideal for cleaning a number of floors, such as tile, hardwood, laminate, and even glass. 
For ease of use, this mop has a wet spin driver and dry spin driver included. This is used to wash the mop head and it's simple to use.
Simply push the mop head down and pull up the pole. Then, the dry spin driver drains the mop's excess water so you don't have to touch the dirty water when cleaning your floors, making your job easier.
Alternative: Favbal Spin Mop Bucket System
The basket, wringer, handle, and plate of the mop bucket are all made out of 304 stainless steel and polypropylene. This increases the mop's lifespan because its components are durable.
This best spin mop and bucket kit comes with other accessories you'll appreciate when you need to clean your floors, such as a detergent container and an automatic drain setting.

You can adjust the mop handle to accommodate your height so you don't have to bend or get back aches. The handle can be extended from 35 inches to 61 inches, so you can get into hard-to-reach places.
This mop handle feature also enables you to use this mop when cleaning your floors, windows, and ceilings. 
As for the bucket, it has wheels to make it easy to roll the bucket around. 
Alternative: MASTERTOP Spin Mop
It's designed with a microfiber mop head that is gentle on various types of flooring materials so that it won't scuff and scratch them.

Unlike some other spin mops we've featured in this guide, this one has a foot pedal. How it works is that you can dry the mop head by pressing the pedal on the bucket with your foot.
This reduces the amount of energy required to clean it. It also prevents you from having to bend over, which minimizes your risk of experiencing back pain. 
For increased ease of use, this spin mop and bucket comes with a carrying handle so you can easily carry it around when cleaning your entire home. The spin mop is ideal for use on a variety of surfaces, such as tile, ceramic, harwood, and others. 

Alternative:MASTERTOP Spin Mop Bucket Set
With a 3.17-gallon capacity, the bucket can fit all sizes of wet mops, rags, and sponges, so you're sure to use it for a variety of cleaning tasks around the house. 
The microfiber head of the spin mop can effectively remove a variety of spills on the floor, such as oil and water, as well as debris such as hair and dust. The mop head is 360-degree rotatable, and you can use it as a dry or wet mop.

As for the bucket, you'll love that it has a splash-proof design so that when you rotate the wet mop the water collects inside the bucket and not on the floor. 
One of the best features about this spin mop as compared to other products on the market is that it contains a larger mop head. It's designed with a head that's 13.2 inches in diameter and a 1.58-inch thickness. This is the best spin mop for cleaning large areas. 
Now that you've seen the best spin mop products on the market, you might want a bit more information about spin mops and how they work.
Here are some important things to consider, such as if spin mops are a good idea or you should choose a different type of mop, and what are the best features you should look for when shopping for a spin mop. 
Which is better spin mop or flat mop?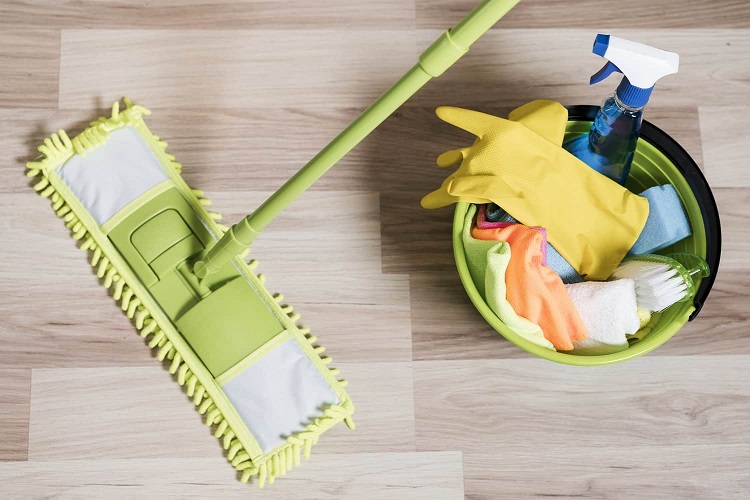 When choosing a mop for your home, you might wonder if you need a flat mop or a spin mop. Let's explore their pros and cons.
Flat mop
A flat mop has a long cleaning pad that doesn't require you to submerge it in a bucket of water and cleaning solution before use. You can find flat mops with a variety of yarn types, but microfiber is usually the standard material that's used.
A flat mop is better than a string mop for regular, daily cleaning. This is because of how it's easier to use and it decreases the risk of cross-contamination during the cleaning process because you don't have to dip the mop in a bucket of dirty water.
A flat mop is ideal for getting into corners. For increased user-friendliness, the flat mop head can be detached and cleaned after use, which makes it easy to maintain. 
Spin mop 
By comparison, a spin mop has a head that spins when force is applied to it. It is designed to spin 360 degrees, and the mop comes with a bucket. Although a spin mop looks a lot like a flat mop, a spin mop varies because of its bucket and spinning head.
A spin mop is easier to use than a flat mop, and this is because of how since it comes with a bucket you don't have to rinse and clean the mop various times during the cleaning process.
Note that even though both a flat and spin mop will require a bucket, a spin mop always comes with its own bucket whereas a flat mop doesn't. 
What should I look for in a spin mop?
When shopping for a spin mop, it's essential to look for some specific features that will ensure you get good cleaning capacity. These include the following:

The wringing mechanism. You can find spin mops with pedal mechanisms, that make use of a pedal to spin and to remove dirty water from the mop head, and handle mechanisms. These have a push-activated handle inside the dirty-water tank that spins the mop. 
The mop head should be made of microfiber. This material is the gold standard for spin mops because it's gentle to your floor, is low maintenance, and lasts a long time.

The handle should be metal. A metal mop handle is more durable than if you choose one that has a plastic handle, however you will have to be prepared to pay more for it.

Some extra bucket features. For increased user-friendliness, some spin mop buckets contain extra features, such as a built-in drain so you can empty the dirty water after a cleaning session and a built-in detergent bottle. Consider these if they appeal to you. Wheels on the bucket are also fantastic to ensure you can move the bucket from one room to another while cleaning. 
Can you use spin mop on hardwood floors?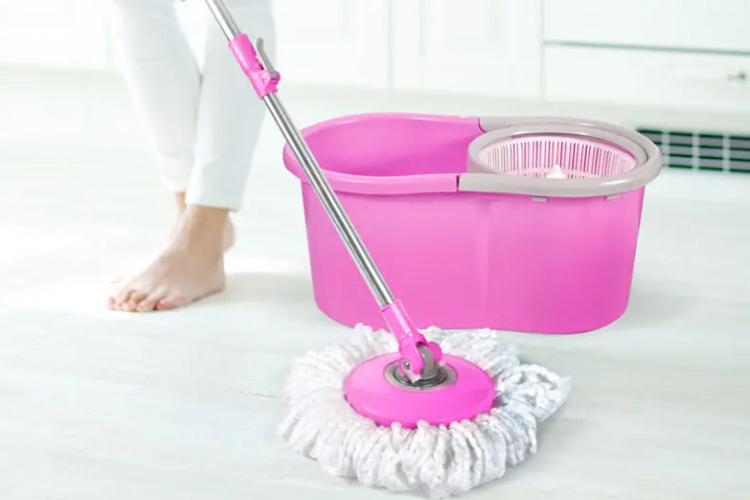 If you own hardwood floors, you'll know that you have to be careful with them, such as when it comes to choosing what mops to use on them to get an effective clean without causing them damage.
Since spin mops get almost completely dry when spun, they don't cause lots of splashes of water on your wooden floors. This protects the wood. And, since they have mop heads made out of microfiber, this material is soft enough to prevent scuffs and other damage to hardwood floors. 
As we've seen in our reviews of spin mops, there are many high-quality spin mops on the market that are ideal for hardwood floors, such as the O-Cedar EasyWring Microfiber Spin Mop & Bucket Floor Cleaning System.
It has many features to make it safe for hardwood floors, such as that it has a head made of microfiber, and it's built with a Splash Guard that prevents water from spilling out of the bucket and pooling on your wooden floor. 
Can spin mop be used without bucket?
If you don't want to use a bucket with your mop, you have to make sure that you have a microfiber mop head cover. Wash it with hot water and wring it out. You should ideally wash and prepare two so that you can replace them during the cleaning process.
Put the first microfiber pad on the mop head. Make sure you have a spray bottle with water and cleaning solution. Then, when you're ready to clean the floor, spray the cleaner on the floor and use the wet mop to move over that area of the floor.
You don't have to rinse the floor if you've heavily diluted the spray bottle solution with a lot of water.

Now, the problem is that if you have a spin mop, you'll battle to follow the above method. When you use a spin mop, you have to dunk it in the water bucket and then wring it out in the bucket by using the included mechanism.
This ensures that the mop is wet but not too wet, therefore it will dry your floors quicker.

Spin mops usually come with buckets and these are required so that you can properly use them. Their wringer buckets are compatible with the mop's cleaning heads so that you can wring them out effectively before use.
If you had to try to wet the head of your spin mop by hand and use it to mop your floor, it wouldn't make sense because you'd risk putting too much water on it and this could cause puddles on your floor. You'd also be better off using a regular mop for this purpose. 
A spin mop works well to save water, dry faster, and prevent puddles when you're cleaning your floors.
In this guide, we've looked at some of the best spin mops on the market, as well as information you should know about how to use spin mops and how to choose the most effective one. 
A spin mop can cut down the time you have to spend cleaning your floors. It's easy to use, comes with great features, and prevents aches and pains from having to bend and wring your mop by hand.