If you spend a lot of time in your car, you'll know how frustrating it can be to find dust and debris in it. Just like having a dirty home can bring you down, having an untidy or dirty car can make you feel stressed out. That's why you have to purchase the best vacuum for cleaning your car. 
Can you use any vacuum cleaner to clean your car? While you probably can use your regular vacuum cleaner to give your car a good clean, it's not always easy to get into hard-to-reach places.

With that in mind, let's explore the best vacuum cleaner for car detailing, from the canister to portable models. We'll also feature some important information you should know about cleaning your car so you get a professional result every time. 
Best Canister Vacuum: BISSELL 18P03
For increased convenience, this vacuum cleaner comes with seven attachments (as well as an accessory bag) so that you can clean bare floors, upholstery, carpeting, and more. Its extra tools make this vacuum cleaner a must-have for use around the garage and home.

It's got a four-gallon semi-translucent dirt tank with two-stage filtration. This means that once the dirt is sucked into it, it won't be able to escape.

With a blower function, this vacuum cleaner can be used to clean leaves and debris. This makes it a valuable, versatile product to have in the home. 
This best car vacuum for detailing comes with a wall-mounting kit for easy storage, and it has a 32-foot extension hose so you can still use it when it's mounted to the wall to clean up your car and garage.

When you have to empty the dirt bag, it's really easy to do. It comes with two clips so that you can empty it quickly and without any stress. 
Runner-Up: Metrovac VNB94BD
With its air-blasting feature, this vacuum cleaner can be used as a leaf blower, but it might surprise you to find out that you can even use it to inflate rafts or your new air mattress.

This best canister vacuum comes with a variety of accessories so you'll have everything you need in this pack.
The accessories include a flexible hose, two 20-inch extensions, a carpet/floor tool, a Pik-All nozzle, a dusting brush, a crevice tool, an inflator adapter, a blower nozzle, a four-piece micro cleaning tool kit, and a four-wheel dolly. 
With its all-steel construction, this vacuum cleaner is durable and built to last. People who have purchased this vacuum cleaner have noted its high-quality construction, so it'll last you for a long time. This also doesn't make it heavier than the previous vacuum for car detailing. 
Best Handheld Vacuum: CherylonCar
It's equipped with a stainless-steel filter that's the equivalent of 20 regular HEPA filters. Maintaining these filters is really easy.

This vacuum cleaner has a copper motor that's designed to be powerful. It's designed with aluminum alloy fans. The motor is 150W and has 8kPa suction so that you can easily clean up dust, food debris, liquids, pet hair, and dirt.

With its 16.4-foot power cord, this handheld vacuum cleaner can easily connect to the car's 12V lighter port so that you can reach every area of your car to clean it with greater ease. Since this vacuum cleaner is handheld, it's easy to move around your car and get into any tight spots.

This best portable vacuum for car detailing has a unique feature that you won't find on many other models on the market. Where its suction port reaches the filter, its curved design decreases the damage that can be caused to the filter, therefore increasing the filter's lifespan.
Runner-Up: Klenky High Power
This Klenky vacuum cleaner is easy to use and portable. It's designed with a high-efficiency filtration system. With its detachable dust bag and HEPA replacement filter, you'll have everything you need to clean your car and home.

It comes with a variety of attachments for increased ease of use, such as a dusting brush for cleaning your car's carpets, a crevice nozzle for getting into crevices in the car, an extended tube for attaching new accessories and giving you greater length, and a storage bag. 
Since it gets plugged into your car's port, you can also use it while it charges so you don't have to wait for the handheld vacuum cleaner battery to be ready. This makes it convenient to use. 
This vacuum cleaner will enable you to clear away dust, food and liquid spills, and ash. It's designed with a cyclonic force and a powerful suction, thanks to its 106w motor.

This cleaning kit comes with three attachments to make it easy to clean a variety of spills and messes. These are flathead, brush, and extendable nozzles. It also comes with a spare filter and a filter brush, for increased convenience.
When it comes to its filter, this is a HEPA washable filter that will collect tiny particles of bacteria, pollen, and dust that a simple dust brush wouldn't be able to eliminate.

To use this portable vacuum cleaner, you can simply make use of the 12v auto outlet to power it up. Its 16-foot cord gives you enough room so you can clean backseats and other hard-to-reach places in your car or truck. 
Vacuum For Car Detailing FAQ
After reading our reviews of the best vacuum for car detailing, along with four top-quality alternatives, to keep your car in excellent condition, you now probably know which unit you should purchase.
But, if you'd like to know a bit more about vacuums for car detailing and other cleaning tasks, read on to find out more, such as the best way in which to vacuum your car to rival the cleaning pros. 
What is a good HP for a car vacuum?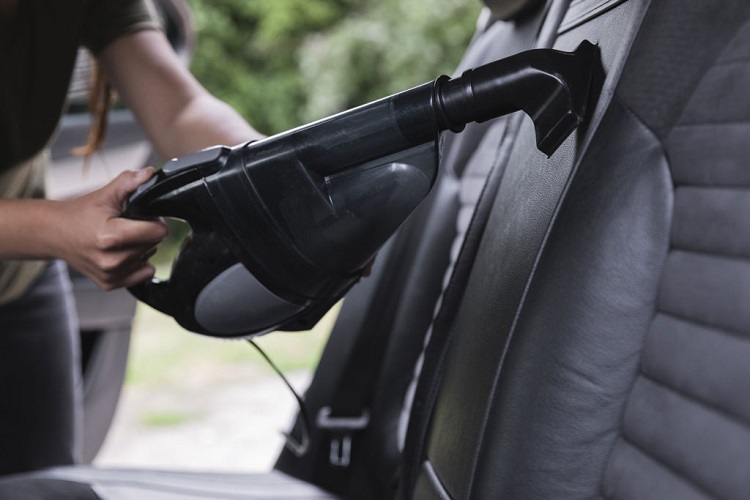 If you want to clean your car thoroughly, you will need to ensure that the vacuum cleaner you use for it has enough HP, or horsepower. A strong enough horsepower for car detailing is between 1 HP and 7 HP, as these will ensure that the vacuum cleaner will be able to do a good job.

Generally, HP of between 1 and 2 is great for removing sand and dirt, but you might want a bit more power to get rid of more debris and particles, so it can be good to aim for a vacuum cleaner that has around 4 or 5 HP.
This will also offer you a good amount of suction so that you can successfully eliminate a variety of debris from your car much faster. 
How do I vacuum my car like a pro?
If you're going to buy a vacuum cleaner for your car, you'll naturally want to ensure that you use it properly. Here are some tips to follow if you want to vacuum your car like a professional.
After you've cleaned your car of large debris and clutter, remove the floor mats so that you can get underneath the seats. 

Start by vacuuming your car by removing loose dirt from the surfaces. Use the vacuum without any attachments for this step.




Vacuum all the easy-to-reach places in the car, such as the seats, seat folds, and carpet.  

Don't forget about those hidden spots underneath the car seats! Move the seats if possible so that you can get to all those hard-to-reach places.

Use smaller vacuum cleaner attachments to clean the pedals, between the seats, and the console.

To remove dirt that's still present, such as in the carpet fibers, use a stiff brush. For nooks, vents, and any spots that your vacuum cleaner can't reach, use a soft brush to clean them.

After you've brushed surfaces, which will have pulled up more dust and dirt, use attachments on your vacuum cleaner to remove them, such as a low-profile head and soft-bristle brushes. 

Use an upholstery brush to clean seats, gauges, dashboards, vents, the console, and sun visors.

Use the crevice tool to eliminate dust and dirt on seat crevices, ashtrays, cup holders, and between the door seals.

When vacuuming your vehicle, a good tip is to start from the front and move to the top, then the bottom and work your way around to the other side of the vehicle. Move and clean the seats and underneath them before you do the rest of the floor so you don't miss out on any spots. 
How do I choose a vacuum for my car?
When shopping for a vacuum cleaner you want to use on your car, you should look for some important features to ensure you'll get a deep, thorough clean. Here are some features to look out for:
Choose the right size and weight. When cleaning your car, you want to use a vacuum cleaner that's easy to manoeuvre and that's compact to carry. But, note that the smaller a vacuum cleaner is, the less powerful it will be.

Choose between corded and cordless models. This is another important feature to consider before you buy a vacuum cleaner. A battery-operated vacuum cleaner that's cordless will have to be charged before use and its battery life can run out quickly, so that's something to bear in mind. However, it will give you more portability.

Look for extra accessories. A car vacuum cleaner should come with handy accessories and tools that you can attach to the unit with which you can clean in hard-to-reach places in the car, such as a crevice tool. This will make cleaning your car much easier.

Check the cord length. If you're using a corded vacuum cleaner, make sure it comes with a long power cord. This will make it easier to reach your car and get into all its nooks and crannies.

Consider the best wet dry vacuum for car detailing. This type of vacuum cleaner is great for dry debris and wet spills. Almost all wet/dry vacuum cleaners on the market will have a blower function that blows air out quickly, so they're ideal for blowing dust and debris from the car's interior. 
How often should you vacuum your car?
A deep vacuum clean of your car should be done at least every few weeks or once a month. This will ensure that the car interior always looks clean and fresh. It will also make it more comfortable to use your car and feel good when driving it around town.
You'll feel good that you've removed pollutants and particles, such as allergens, from your car, especially if you spend a lot of time in it.

If you spend a lot of time in your car, and you have pets or kids who regularly do, you should clean your car more regularly. Aim for vacuuming it twice a month to keep it in good condition. 
Keep your car in good condition by vacuuming it regularly. This will also ensure that it's a pleasure to drive. When choosing the best vacuum cleaner for your car to get into all its nooks and crannies, you might not be sure which one to choose.

After reading this guide, you now know the best vacuum for car detailing, as well as four other top-quality models that will keep your car looking professionally cleaned.
We've also featured some information to know about car vacuum cleaners so that you can choose the best one with features to eliminate dust and debris without you breaking out a sweat.