A high-pile carpet has long fibers which give it a plush appearance, and it also feels good to walk on barefoot. But, this type of carpet attracts more dust and debris, so you have to be careful to maintain it regularly so that it stays hygienic and looks as good as new.

Can you vacuum a high-pile carpet? You can – and should! – vacuum clean your high-pile carpets. This is because the vacuum cleaner will be able to draw out all the dust and dirt in the carpet fibers, keeping your floor and indoor air clean.

But, what is the best vacuum for high pile carpet? Read on to find out as we explore the most effective vacuum cleaners and take a look at their pros and cons to help you choose the best one for your carpets.
Best Overall: Eureka NEU182A
With its 12.6-inch wide nozzle, it will clean a larger surface area on your carpets or floors at a faster pace.

One of the best features of this best vacuum for high pile carpets is that it has a five-height adjustment. This means you can use it on hard floors, shag rugs, carpets, and other flooring materials because it will accommodate the floor on which you're using it.
For even more increased user-friendliness, this vacuum cleaner is designed with smooth wheels so that you won't damage your floors or battle to move it around on carpets.

To make it versatile for your home, this vacuum cleaner comes with various accessories and tools included in the pack. You'll get a quick-release handle that connects to the stretch hose, so that you can achieve above-floor cleaning. It also comes with a crevice tool, upholstery tool, and dusting brush.
This means you can clean in those difficult-to-reach areas, such as your curtains, door frames, ceilings, and more. You can also use these attachments to clean your car.
If you own fluffy carpets in the home, you know how they can become dust trappers. By using this vacuum cleaner, which effectively traps dust and allergens, your carpets and indoor air will become more hygienic. 
This vacuum cleaner makes it easy to switch from cleaning floors to cleaning your carpets, thanks to features such as its Scatter-Free technology and brush roll on/off switch. 
You can use this vacuum cleaner to clean your floors, upholstery, stairs, and other nooks and crannies where dust accumulates. 
You'll love that this vacuum cleaner is easy to assemble so you can start using it immediately. It has an automatic cord rewind, so that at the end of your cleaning session its 27-foot cord wraps up with the mere press of a button. 
Alternative: BISSELL BigGreen
These features combine to enable you to remove debris and dirt from difficult-to-reach places in the home.
This vacuum cleaner comes with a variety of accessories included in the pack. You'll receive a crevice tool, an extension wand, and a combination dusting brush/upholstery tool. These enable you to clean a variety of surfaces in the home. 
It's equipped with a 13-inch single motor and houses all the tools and accessories you need to clean your home on the machine itself, which makes it easy to use. It also comes with a 13-inch cleaning path width, so you can clean a larger area in a shorter time. 
It has a cord that's 35 feet in length, so you'll be able to manoeuvre it around your home without a problem. 
Another great feature of this vacuum cleaner is that the power cord connects to the pigtail cord with a clamp which means that if the cord becomes damaged it can be easily repaired without rewiring or costly repairs being required.  

To ensure you remove allergens in the home, this vacuum cleaner comes with an Anti-Allergen Complete Seal Technology, as well as a HEPA filter. This is great for removing dust and pet dander, too, as it effectively traps particles so that they can't re-enter the home.

When you purchase this vacuum cleaner, you'll receive valuable accessories, such as a dusting brush, a wide upholstery tool, and two crevice tools of different lengths.
These are especially suitable for cleaning in tight areas of the home where dust can hide. On the topic of dust, it comes with a bagless dust cup that collects all your dirt and debris. 
Don't be fooled by how this vacuum cleaner looks a bit bulky. It's actually lightweight and has a swivel-steering feature that can easily glide over surfaces, such as your thick carpets. 
Alternative: Kenmore BU4022
It makes use of a Lift-Up feature, which makes it easy to clean above your floors and on the stairs. Just press one button to clean hard-to-reach areas of the home.
This vacuum cleaner is easy to move around on carpets, thanks to how it only weighs 14 pounds and it has a swivel-steering feature. It's also equipped with height adjustments that enable optimal airflow and better cleaning efficiency. 
When you want to move from cleaning one type of floor material to another, the vacuum cleaner makes it easier. It has a bare-floor button that turns off the rotating agitator to achieve this, but it maintains the same airflow and full suction to give your floor an excellent clean. 
This vacuum cleaner comes with accessories to make cleaning your home easier, such as a 3-in-1 combination tool, a pet HandiMate tool, a dusting brush, and it also comes with six HEPA bags – you'll have enough bags for a year's supply.  
Vacuum For High Pile Carpet FAQ
Choosing the best vacuum cleaner for high pile carpets becomes easier when you know what features to look for.
With that in mind, let's explore what you need to know about vacuum cleaners for thick carpets, such as how to make it easier to push your vacuum cleaner on a plush carpet. 
What kind of vacuum works on thick carpet?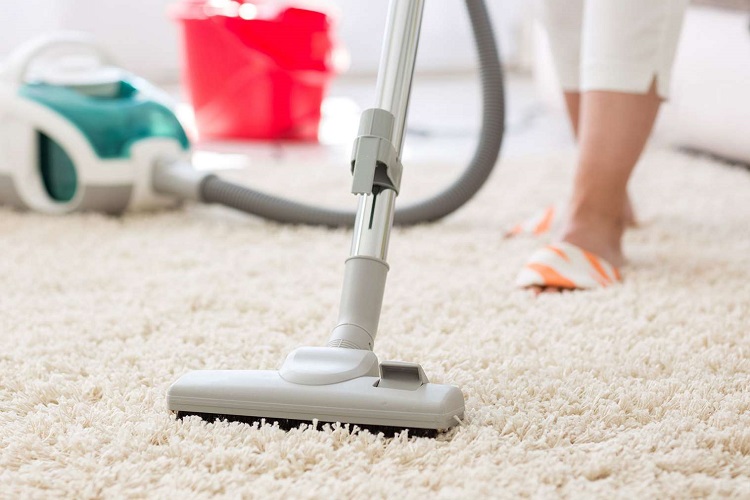 You might not necessarily need a vacuum cleaner that's designed especially for carpets. In fact, your current model might be able to work, but it does require some important features to effectively clean carpets.
Your vacuum cleaner will have to have a beater bar on board, or a brush roll. As we've seen in our reviews of the best vacuum for high-pile carpets, some vacuum cleaners come with an on/off switch for brush rollers that you can engage when cleaning thick carpets.
Your vacuum cleaner should also have a height-adjustable head or adjustable suction settings. This ensures that your vacuum cleaner can accommodate the floor material in your home. 
How do you clean high pile carpet?
When you want to clean your high pile carpet, you should ensure that you slowly move the vacuum cleaner across the thick carpet. This makes it pick up debris, dust, and dirt.
Some vacuum cleaners are fitted with filtration systems to pick up tiny particles, such as allergens, to keep your indoor air healthy. It's a good idea to vacuum in two different directions: move the unit north to south, and then move it east to west. This ensures that you'll clean the carpet thoroughly. 
Other things you should ensure before vacuuming your high pile carpet include setting the unit to its highest setting. This will give it enough suction power to be able to remove debris and dust from your carpet fibers.
Adjust the height, putting it on the highest setting. Then, engage the beater brush if your vacuum cleaner has one on board. 
Why is it hard to push my vacuum on carpet?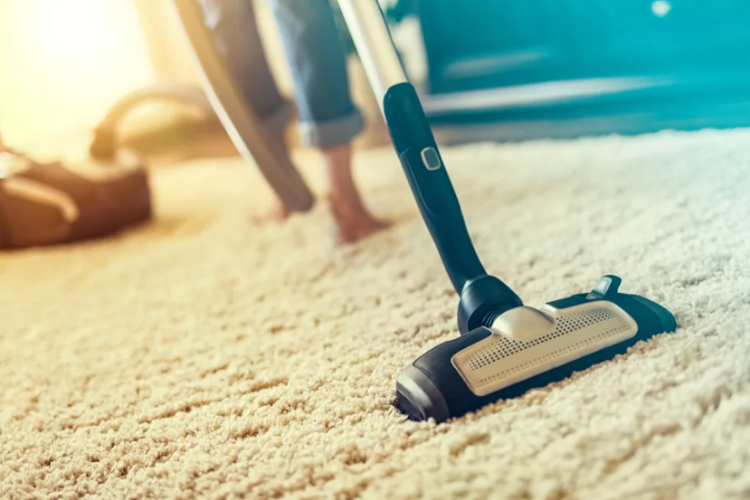 If you're finding it hard to push your vacuum across your carpet, or it's just not moving smoothly, this could be because it's heavy. You should therefore think about purchasing a lightweight model.
However, there are some other reasons which could be causing your vacuum cleaner to be difficult to move on carpets. Here are some to consider.

The vacuum cleaner's rotator brush isn't working. It could be stuck, which can be caused by hair getting trapped in it. 

The vacuum cleaner has the incorrect height setting. This can make the vacuum cleaner battle to grip onto the surface it's cleaning so that it can glide over it properly in order to give it a deep clean. 

The vacuum cleaner needs to be cleaned. If the dust bag is too full, this can have the effect of making the vacuum cleaner feel sluggish. Note that there are some vacuum cleaners, such as the Kenmore unit we featured in our review of the top-rated vacuum cleaners for high pile carpet, that prevent their suction power from getting affected by the dust bag. The Kenmore vacuum cleaner has a PowerFlow bag chamber that ensures it will still suck up debris and dirt even when the bag is full. 

The vacuum cleaner has a damaged hose. If the unit's hose has been damaged or it's broken, this will negatively affect how well it can suck up dirt and debris. You'll feel that it doesn't move smoothly. To remedy this, you will have to replace the unit's hose. 
How do I make my fluffy carpet fluffy again?
If you've had your high pile carpet for a long time, you might have noticed that it has lost its fluffiness and plushness. This can happen as a result of walking on the carpet fibers so that they become flattened.
This can make the carpets look crushed or flat. The good news is that you can fix this problem just by cleaning the carpet. You will need to get your hands on a vacuum cleaner with a beater bar.
This is because the beater bar works to loosen dirt and debris that's become embedded in the fibers and removes it so that the carpet can look fluffy again.
Note that if you have a shag carpet, a carpet rake will be best to use. It's got flexible teeth that will lift up and separate the carpet's fibers and this also helps you to bring more debris to the surface so that you can vacuum it away.  
It's also a good idea to apply a DIY homemade cleaning solution to your carpet as this can help to clean it while allowing you to lift up the carpet fibers. Start by vacuuming your carpet, then sprinkle a 1:1 blend of table salt and baking soda.
Spritz water from a spray bottle onto the area and then use a scrub brush to ensure you push and mix the cleaning solution into the carpet fibers. You should blot away loosened debris with old towels, before letting the carpet air dry.
Then, vacuum the rest of the salt and baking soda, and this will also lift up the carpet fibers.
Cleaning aside, you should follow some important tips to keep your carpets fluffy. These include the following:

If you have heavy furniture on your carpets, you should move them around regularly so that you don't end up with too much flattening in specific areas of the carpet. 

You should vacuum clean your carpets at least once a week to keep dirt out of them. This will prevent debris from becoming stuck and embedded into the carpet. 

Avoid walking on fluffy carpets with your shoes. It's also a good idea to avoid too much traffic in general on your carpets so you don't make them flat and dirty. 
Looking after your carpets is important. If you don't clean them regularly, this can cause your carpets to become dirty and full of dust, which can negatively affect your home's hygiene. Cleaning your carpets regularly is even more important if you have children and pets.
We've featured five of the best vacuum cleaners for high pile carpets, as well as some FAQs to enable you to learn how to best clean your carpets so they look good and you'll feel comfortable to walk on them barefoot.