Dyson is a brand of vacuum cleaners that's considered one of the best on the market. One of the reasons for this is that all its vacuum cleaners make use of cyclonic separation technology.
What is cyclonic separation technology? This effectively removes allergens and dust from the home, and it causes the vacuum cleaner's air to spin at high speeds.

There are many Dyson vacuum cleaners on the market that boast excellent features. Some of the best include the Dyson V8, V10, and V11. Let's explore them in more detail.
Dyson V8 vs V10 vs V11: What Are They About?
These three Dyson models share some similarities but they also have important differences. Let's quickly look at what they're about.
Dyson V8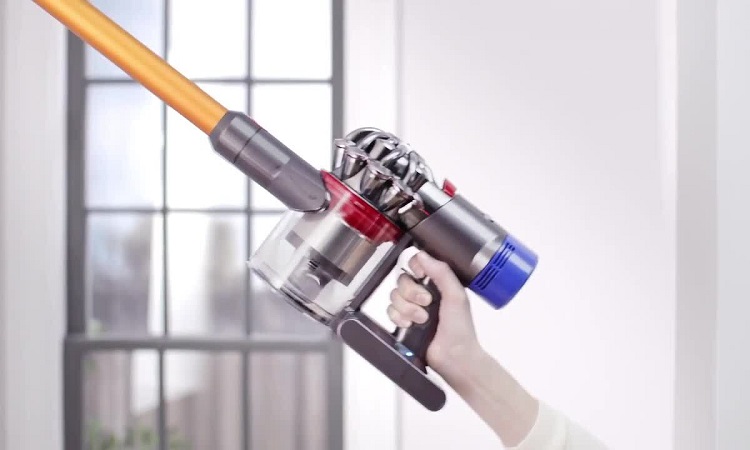 The Dyson V8 is considered to be the most powerful cordless vacuum. It offers up to 40 minutes of powerful suction that captures fine dust particles with greater ease.
Pros
It has a low-profile nozzle so it's great for hard-to-reach places.
It makes use of a HEPA filter and has a sealed system filtration.
It comes with many tools, including cleaner heads for vacuuming carpets and hard floors.
Cons
It's heavier than the Dyson V6.
It doesn't come with swappable batteries.
Dyson V10
This vacuum cleaner gives you up to 60 minutes of suction power. It boasts patented cyclone technology to enable it to capture particles that are as small as 0.3 microns.
Pros
It's easy to turn the vacuum cleaner's head, such as when cleaning under furniture.
It has a HEPA filter and sealed system.
It charges faster than the V8.
Cons
You have to hold down the power trigger during use.
It's heavier than the V6.
Dyson V11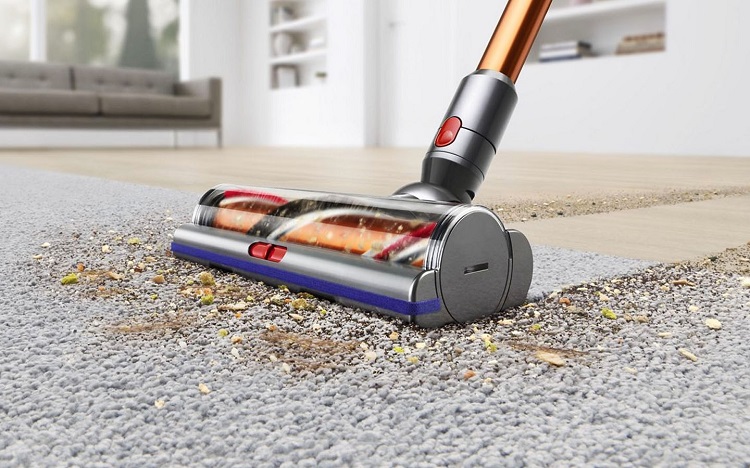 This vacuum cleaner offers even more in terms of suction power, which is one of the features that set it apart from the V10 and other models. It's also got other features, such as an intelligent brushroll on board.
Pros
It has a convenient LCD control screen.
It has HEPA and sealed system filtration.
It comes with more tools than previous Dyson stick vacuums.
Cons
It's the heaviest Dyson stick vacuum.
The Torque Drive cleaner head causes some debris scattering.
How Do These Dyson Vacuums Compare?
The Dyson V8, V10, and V11 all have their pros and cons. But, if you want to choose the vacuum cleaner that's best for your home and your wallet, you will want to compare them according to some important categories and features.
Suction Power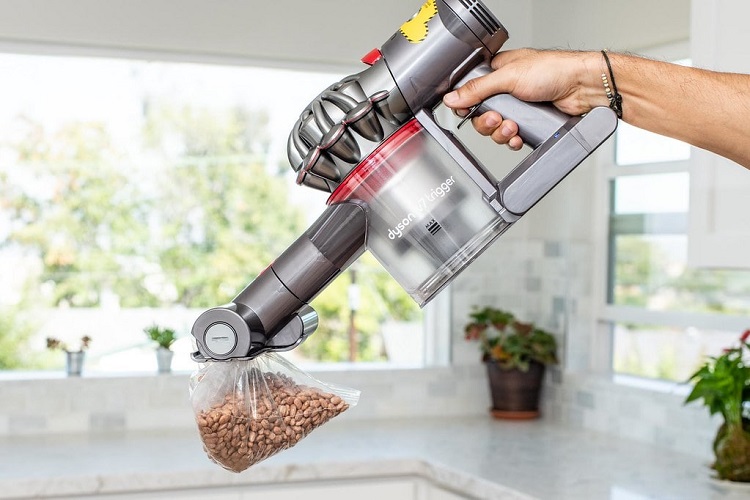 This is one of the most important features you should look for in a vacuum cleaner to ensure you get a deep clean in your home.
Dyson V8
The Dyson V8 gives you 115 air watts of suction power. Known as the V8 Absolute, this cordless vacuum cleaner is ideal for both hard floors and carpets.
One of its great features is that when you use it to clean carpets, it has a direct-drive cleaner that penetrates deeply into the carpet fibers so that you can clean them thoroughly.
When used on a hard floor, attaching a soft woven-nylon carbon fiber head to the vacuum head works effectively.
Dyson V10
The cordless Dyson V10, which is also known as the Dyson Cyclone V10 Absolute, offers 150 air watts so it will give you more suction power than the Dyson V8.
It works effectively to penetrate into carpets with its nylon bristles and it has a motor inside the brush bar to make cleaning carpets easier.
On hard floors, its soft woven nylon and anti-static carbon fiber is gentle enough on your floors while cleaning them thoroughly.
Dyson V11
There are many Dyson V11 models on the market, but in this guide we're going to feature the V11 Torque Drive cordless vacuum cleaner. This is because of its extra features. It has 185 air watts, so it provides a lot more suction power than other models.

It can intelligently optimize its suction depending on the type of floor that you're cleaning. It has a dynamic load sensor that automatically boosts airflow on carpets. When cleaning hard floors, it works effectively to remove both large and small debris.
Battery Life
When using a cordless vacuum cleaner, you should ensure it has a good battery life so that your cleaning sessions aren't interrupted by a battery that's running out.
Dyson V8
This cordless vacuum cleaner offers battery life of up to 40 minutes and it will give you seven minutes on maximum power mode. To charge the battery, you will have to wait for about five hours.

Note that the Dyson V8 will last for 40 minutes when you use it without a powered head, when you use a crevice tool, or when you use a suction-only accessory.
It will last for 30 minutes when it has a fluffy head attachment, and it will last for 25 minutes when used with a spinning brush head.
The Dyson V8 has a battery life indicator so you can see when it needs to be charged.
Dyson V10
This vacuum cleaner gives you up to 60 minutes of runtime. On its maximum power mode, you'll be able to use it for eight minutes. When charging the battery, it charges quicker than the V8 – it'll be fully charged within 3.5 hours.

The unit's battery life will vary depending on how it's used. It will last for 35 minutes on its lowest suction setting.
It's important to bear in mind that it will last for 60 minutes when used with handheld attachments, such as a combination brush or crevice tool, but it won't achieve this run time when the vacuum cleaner is used with a motorized brush roll for regular floor cleaning.
Unlike some previous models, this vacuum cleaner has indicators that will keep you on top of the machine's condition, notifying you of when the filter has to be cleaned and when the machine is blocked.
Dyson V11
This is the most powerful vacuum cleaner on our list when it comes to battery life. It gives you over 60 minutes of runtime, which is more than enough to help you clean your floors in one session.
If you want to use it on its maximum power mode, you'll get 12 minutes of runtime. The V11 requires 4.5 hours to get a full charge, so it does take a bit of time.
You'll love that the Dyson V11 has an LCD screen that displays how much battery life remains in the unit. This prevents you from wondering how much longer you have to use it before it cuts out.
Capacity
The dust bin or container of a vacuum cleaner is important. It should have a good capacity so that you can empty it out less regularly. This is important because when the vacuum cleaner gets too full this can hamper its suction power.
Dyson V8: The bin capacity of this vacuum cleaner is 0.54 liters.
Dyson V10: This vacuum cleaner's bin capacity is 0.75 liters.
Dyson V11: This vacuum cleaner has the same capacity as the Dyson V10. However, if you're looking for a vacuum cleaner that has greater capacity than that, you should consider the Dyson V11 Outsize that has a bin capacity of 1.89 liters.
Design
The design of a vacuum cleaner is important and can include a variety of features, such as how lightweight or heavy it is, how bulky or sleek, and so on.
Dyson V8
The Dyson V8 is the most compact out of all the vacuum cleaners on our list. Its dimensions are 9.8 by 49 by 8.8 inches. It also weighs just 5.75 pounds, so it's lightweight and can be carried easily around the home and up the stairs.

It comes with a two-in-one design. It can be used to vacuum floors and turns into a handheld mini vacuum that you can use to clean your car or upholstery in the home. You can even use it to clean your ceilings.
The Dyson V8 Absolute comes with a bright yellow shaft and red and purple bursts of color on the handle as well as the head.
Cool feature: It comes with a bright red tab located on the handheld unit which is user-friendly because you just have to pull it when you want to empty its dust bin.
Dyson V10
This vacuum cleaner has similar dimensions and weight to the V8 model. Its dimensions are 10.1 x 49.2 x 9.5 inches, and it weighs 5.9 pounds so it's not difficult to carry around.

It stands out against the Dyson V10 Animal because it has extra features. These include an extra cleaner head and a soft roller for hard floors.

It has a user-friendly assembly, as you just have to click the stick onto the machine and then add the attachment you want to use. It's also a two-in-one design as a result of how you can use it as a stick vacuum or handheld mini vac.

It comes in purple and grey colors, but it's designed with a copper metal wand to make it look even more stylish in the home.

Cool feature: Since it's lightweight and comes with plastic wheels, the Dyson V10 is really easy to move around the home and this also ensures it protects your floors.
Dyson V11
The Dyson V11 is 10.28 by 50.63 by 9.84 inches. It weighs more than the other vacuum cleaners on our list, coming in at 6.68 pounds.
It's got a similar design to the Dyson V10 because it's cordless with a stick body and trigger power controls. It's got a range of cleaning attachments and heads to make it more versatile.
One of the things you'll really love about its design is that its dust bin is easier to empty than the one found on the V10 model.
This vacuum cleaner has a long dust bin that runs in line with the wand, and this design is not coincidental. It encourages increased airflow and more powerful suction as compared to the Dyson V8 model.

The wand of the vacuum cleaner is available in either copper or nickel and blue colors. The rest of the machine stays true to Dyson's grey-and-purple color scheme.

Cool feature: The Dyson V11 comes with an LCD screen that displays a run-time countdown in real-time so you can stay on top of its performance.
Cost
When purchasing a vacuum cleaner, you will want to know how much it costs. This might be what essentially makes you choose one model over another.
Dyson V8: This is the most cost-effective Dyson D8 vacuum cleaner and costs $539 on Amazon.
Dyson V10: You can get the Dyson V10 on Amazon for $714.99.
Dyson V11: This vacuum cleaner is the most expensive on our list and costs $812.95 on Amazon.
Related Questions
Can you vacuum glass with your Dyson?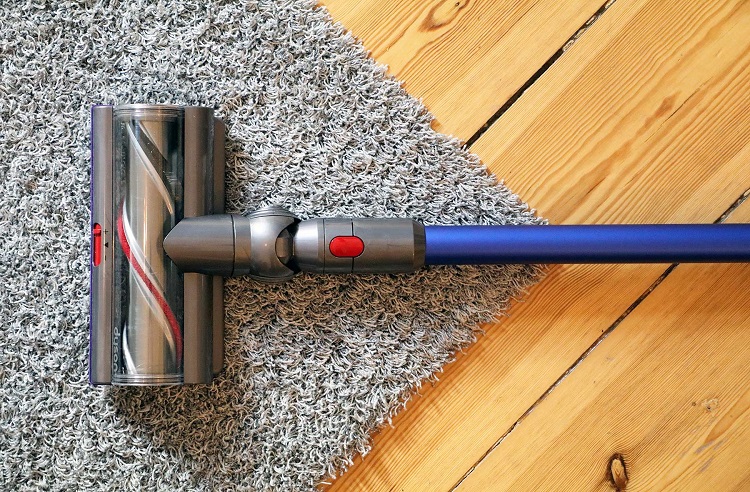 Although it's tempting, you should never use a Dyson vacuum cleaner to clean up broken glass. The pieces will get stuck in the hose and motor, which can cause them to become damaged.
Is the Dyson V8 good enough?
Although there are more powerful Dyson vacuums, such as the V10 and V11, the V8 is a popular model that's versatile and has good cleaning power.
Conclusion
If you need to purchase a new vacuum cleaner, there are many Dyson vacuum cleaners that you should consider.
In this article, we've looked at three effective models – the V8, V10, and V11 – so we get down to the nitty-gritty of what makes them great. Which one will you choose for your home?