Vacuum cleaners have come a long way! These days when shopping for a new vacuum cleaner for the home, you will have a dizzying variety of options to choose from, from upright to handheld and even robot vacuums.

What are some features to look for in a vacuum cleaner? Features such as how user-friendly and noisy it is are some things to consider, as well as how well it works for your specific type of floor.

Let's explore the different types of vacuum cleaners, looking at what they have to offer and what their advantages and disadvantages are. This guide will help you to pick the best vacuum cleaner for your home and lifestyle.
8 Types Of Vacuum Cleaners
Canister Vacuum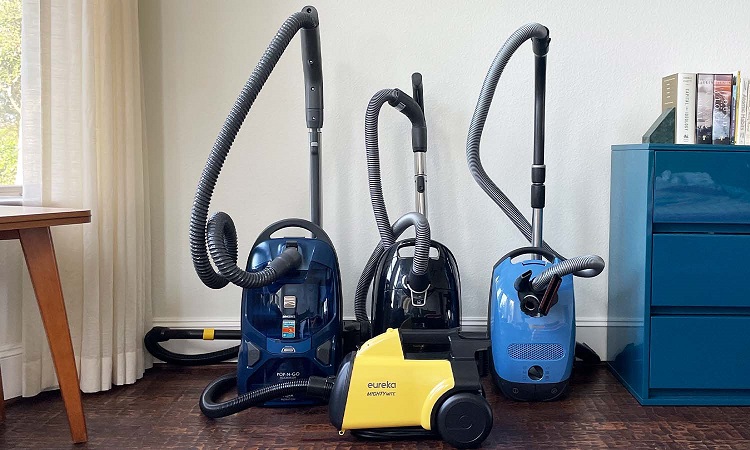 A canister vacuum cleaner has a body on wheels that are attached to a wand and powerhead via a hose. The canister part of the vacuum is where the filter, motor, and dust bags are located.

A canister vacuum cleaner is a good choice if you're looking for a lightweight machine that's easy to carry around the house during your cleaning session.

This type of vacuum works well to pick up a variety of dirt, such as dust, debris, pet hair, and even food debris. It can be used on carpets, hard floors, fabrics, and even the stairs. Its noise level is moderate, so it's not too loud.
Pros
A canister vacuum is usually quiet, and this is as a result of how its motor is housed in a separate unit of the machine.
It doesn't damage floors because you don't have to push a canister vacuum around with you – you only need to bring the cleaning wand.
Its power cord is stored inside the canister vacuum's shell, which keeps things neat and allows for easier storage.
Cons
A canister vacuum can have a bag that's messy to clean.
Although lightweight, some canister vacuum cleaners can be bulky in design.
Upright Vacuum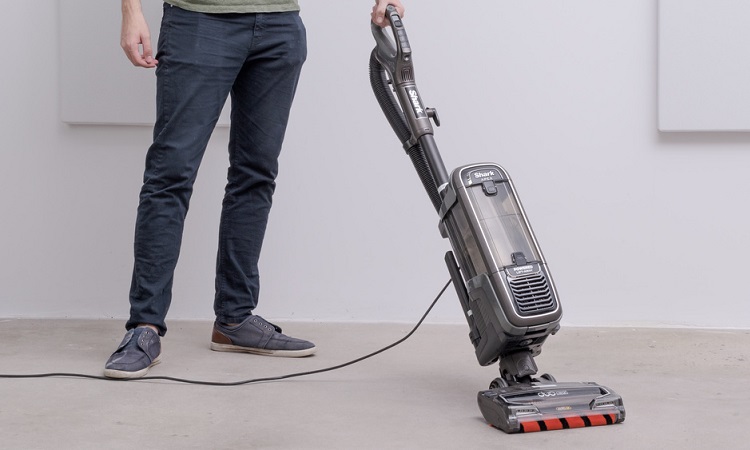 An upright vacuum cleaner has a one-piece design that's made up of a floor head, dust bin, hose, and handle on which you can attach various tools.
These vacuum cleaners come in a variety of designs and you can also find cordless ones which are more convenient.
These vacuum cleaners are generally designed to be sleek, which makes storing them easier, especially if you live in a small home. You can use an upright vacuum cleaner with ease on hard floors and carpets.
Pros
Cleaning an upright vacuum's dust bag is easy, thanks to how most models have bins that unclip when they require emptying.
Unlike with a canister, you don't have to bend down to use an upright vacuum. Its convenient handle makes pushing or carrying it a one-hand operation.
It has a large head that ensures it can stand upright on its own. This head also gives you a wider cleaning area so you can clean large areas at a faster pace.
Cons
These vacuum cleaners can be heavy.
They can also be loud, which could be problematic if you live in an apartment or townhouse.
They're not as maneuverable as canister vacuum cleaners.
Stick Vacuum Cleaner
A stick vacuum cleaner is a more compact version of a conventional vacuum cleaner. It's lightweight and easier to store as well as move around as compared to a traditional machine.
A stick vacuum can be used to clean light carpets and rugs, as well as hard floors, so it's versatile throughout the home. It's ideal for cleaning up dirt such as hair, crumbs, and other surface litter.
Pros
A stick vacuum cleaner is highly maneuverable so it won't get stuck in tight corners.
It's easy to get into hard-to-reach areas because of its small size.
Because it's smaller than other types of vacuum cleaners, a stick vacuum cleaner can be used as a handheld vac.
You can get it in corded or cordless varieties.
Cons
A stick vacuum cleaner has less power than a traditional vacuum cleaner.
It requires the use of batteries to run, which can restrict its run time.
Stick vacuums have smaller dust-bin capacity.
Handheld Vacuum Cleaner
A handheld vacuum cleaner is a small, portable type of vacuum cleaner. It's compact and can help you to clean in hard-to-reach areas of the home, as well as various items.

What's great about a handheld vacuum cleaner is that you can use it for a variety of tasks – it can be used to clean your car when it's dirty, you can use it on hard floors as well as fabrics, and it works well to pick up a variety of dirt, such as dust, hair, and even crumbs. It's easy for anyone to use and doesn't make as much noise as a larger vacuum cleaner.
Pros
This type of vacuum cleaner is small and compact. This makes it easy to move around and use in different areas of the home, while it also means you can store it easily.
It's lightweight. A handheld vacuum cleaner is great for you if you have arthritis or you're older, as it will be easier than having to lug a heavy vacuum cleaner around the home.
It's easy to reach for when you want to do a quick cleanup of your home.
It can clean areas that your vacuum cleaner can't reach, such as corners, tight spots, and hard-to-reach areas.
Cons
You can't effectively clean larger areas in the home with a handheld vacuum cleaner.
Backpack Vacuum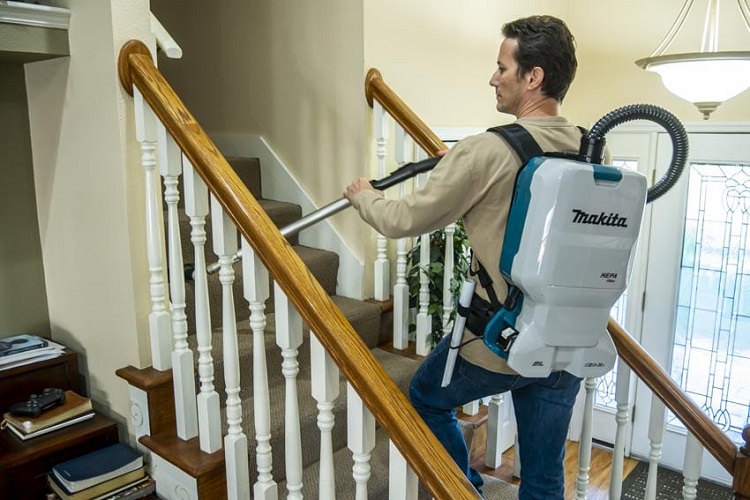 This is a bit of an unconventional type of vacuum cleaner, but it has important benefits that make it one of the best to own.
A backpack vacuum is literally a vacuum cleaner that's small and compact, and you wear it on your back, hence its name.
It's great for people who want a more convenient way of cleaning the home and those who suffer from aches and pains when having to bend down during a vacuuming session.
You can use a backpack vacuum on carpets and floors, and you can also clean furniture with it. It works well to clean debris such as dust and even soil, and it's easy to move around because its body is on your back.
Pros
A backpack vacuum cleaner comes with a lightweight wand that's easy to use.
It's easy to take up and down the stairs.
The wand can be used to clean top shelves and other above-floor areas of the home.
When cleaning floors, it works faster than a broom on concrete, wood, tile, or other floors.
Cons
It comes with straps, but these can sometimes be difficult to adjust to get the most comfortable fit.
It requires a large storage space.
If you use it incorrectly or it doesn't feel comfortable, it could cause back pain.
Wet And Dry Vacuum Cleaners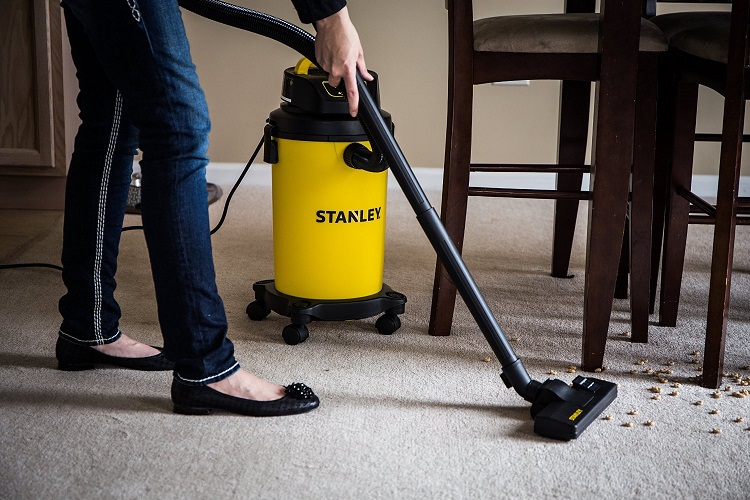 A wet and dry vacuum cleaner can clean up dry and wet debris, so it's a great way to give your home an all-round clean. It's perfect for those messes that can happen suddenly as you won't have to reach for a mop.

This type of vacuum cleaner can be used to vacuum your floors, furniture, and even your car. It's powerful enough to pick up a variety of dirt, such as dust, liquids, solids, food debris, and even glass!
Pros
It has a nozzle to help you get into hard-to-reach areas of the home.
It can be used to inflate paddling pools and mattresses.
It has filters that are easy to wash, resulting in simple maintenance.
Cons
A wet and dry vacuum is corded so it's not ideal for outdoor use unless you have a different power supply on hand.
It can become smelly, depending on the type of debris that you're cleaning.
Robot Vacuum
If you love technology and you want to make vacuum cleaning your home a breeze instead of a workout, a robot vacuum is a good choice. This type of vacuum usually contains one or two spinning brushes and rolling brushes.
They work to pull debris from the floor before the vacuum sucks it into a waste bin. Some robovacs come with automatic dustbin-emptying capabilities.

You can use your robot vacuum wherever you'd use your regular vac – it works well to clean carpets and hard floors in the home. What you'll really love about it is that it's quiet, so it won't wake you up when it starts cleaning on a weekend morning.
Pros
You can set a cleaning schedule for your robot vacuum so it cleans for you.
A robot vacuum can easily slide into hard-to-reach places, such as underneath the couch.
Some can be used via a cell phone app which makes controlling them even easier.
It's small and compact, which makes it easy to store when not in use.
Cons
Robot vacuums can be very expensive.
They can get stuck during the cleaning session, such as if there are items on the floor.
They can be difficult to repair.
Carpet Cleaner
What about a carpet cleaner? A carpet cleaner is designed to remove dirt, dust, and pet hair that's become deeply embedded in carpet fibers.
It's a machine that looks a lot like a vacuum cleaner, but how it differs is that it makes use of suction, scrubbing brushes, and a cleaning solution.

After the cleaning liquid is applied to the carpet, the brushes scrub at the dirt to loosen it. Then, the vacuum suction lifts it so that it can be eliminated.
Pros
A carpet cleaner doesn't just eliminate dirt from carpets but actually scrubs at stubborn dirt so that your carpets get a deeper clean.
A carpet cleaner is versatile and not reserved for use on your carpets. You can use it on a variety of items and surfaces, such as upholstery, curtains, and mirrors, to mention just a few.
A carpet cleaner is a must for people who have pets or kids as it will ensure you keep your carpets clean and hygienic at all times.
Cons
Since a carpet cleaner is meant to be used with a carpet cleaning solution, these could be toxic if they're not made from organic ingredients.
Some carpet cleaners have to be used with specific cleaning solutions, depending on the manufacturer, which can be limiting.
Do You Need A Vacuum Cleaner?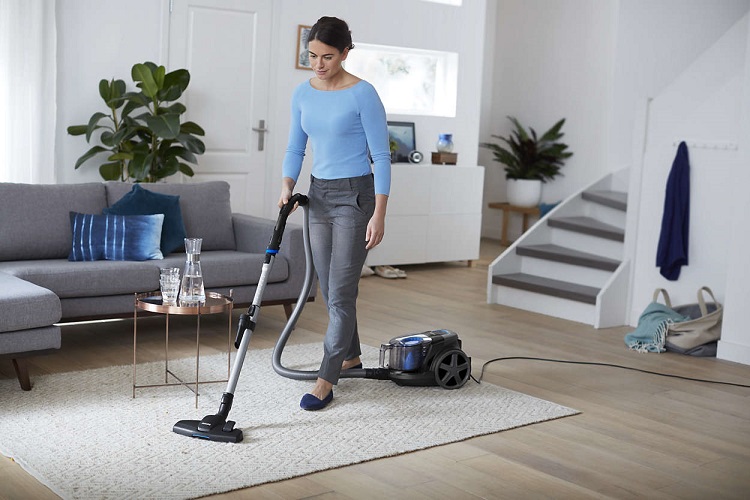 If you own a broom and mop, and you don't mind having a bit of a workout when you clean the house, you might wonder if you even need to purchase a vacuum cleaner. Here are some benefits to owning one.
It makes your job easier. You can find vacuum cleaners that have various features to make cleaning your home a simpler, less stressful task. This can reduce the amount of time you spend cleaning your home.
It reduces allergies. If you use a broom to remove dust and dirt from the house, this actually sends allergens into the air, intensifying allergies. A vacuum cleaner removes a variety of particles from the air, such as dust, pet dander, and pollen, and traps them effectively.
It gives your carpets a thorough clean. A broom will never be able to remove embedded dust and dirt from your carpets and rugs. A vacuum cleaner works effectively to achieve this, making your carpeted areas in the home much cleaner and more hygienic.
Related Questions
Should you vacuum slowly?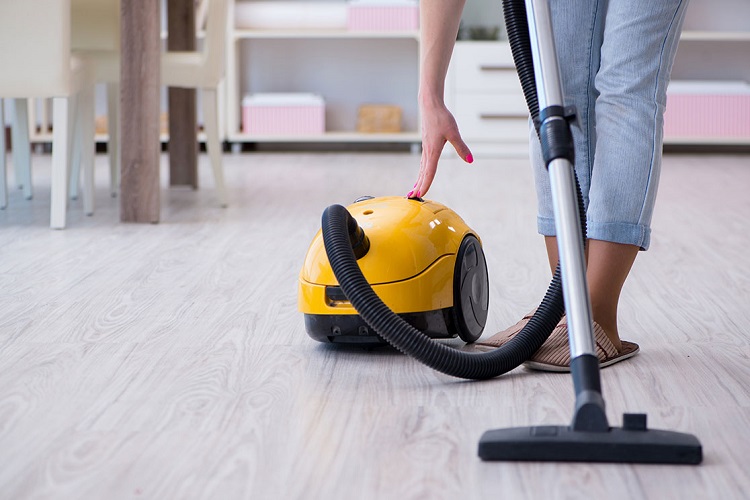 Take your time when vacuuming your home. This allows the vacuum cleaner to suck up more dirt and therefore give your home a more thorough clean.
Do you need to vacuum in both directions?
If you're only vacuuming in one direction, you're not eliminating all dust and dirt. You need to vacuum north and south, and then east and west to get every bit of debri.
Conclusion
There are many different types of vacuum cleaners available on the market today. It's not just a case of choosing between corded and cordless varieties. In this guide, we've provided you with all the popular vacuum cleaners to know about, such as canister, upright, backpack, and robot vacuums.
And, if you're still in doubt about whether you even need a vacuum cleaner, we've provided you with reasons why it's essential for any and every living space.