It might surprise you to hear that you don't have to work up a sweat when vacuuming your home, nor does this weekly chore have to be a hassle.
If you purchase a high-quality vacuum cleaner, such as a Dyson or Kirby model, you can enjoy features that will make cleaning your home a breeze.
Didn't Kirby go out of business? Recently, Warren Buffett's Berkshire Hathaway sold Kirby after 35 years of ownership, but Kirby is still around. It's now owned by Right Lane Industries.
Kirby vacuum cleaners are still a force to be reckoned with, but are they better than Dyson vacuum cleaners? Here's what you need to know.
Dyson Vs Kirby: Comparison
Company Overview
Dyson
Dyson was established back in 1993, and today you can find Dyson vacuum cleaners and products in over 65 countries.
How its vacuum cleaners came about was that in 1978, a man called James Dyson was frustrated with how his vacuum cleaner was losing power, so he took it apart and saw that its bag was clogged with debris. He came up with the idea to invent the world's first bagless vacuum cleaner.
Dyson vacuum cleaners are at the forefront of technology. They all make use of cyclonic separation technology so that dust and other particles are successfully removed from the air. The technology also enables air inside the machine to spin at high speeds.
Kirby
Kirby has been in business making vacuum cleaners for more than 100 years. The Kirby Company, which developed the Kirby Home Cleaning System, was invented by Jim Kirby in 1914. Every Kirby vacuum cleaner is hand-crafted, with a focus on durability and quality.
The vacuum cleaners you purchase from Kirby display many technological advancements to make them the best in their class. These include TechDrive, which makes maneuvering the vacuum cleaner much easier, and the Kirby Micron Magic HEPA filtration which collects and traps allergens effectively.
Most of the parts in a Kirby vacuum cleaner are made out of aluminum, which also makes them more durable and reliable.
Product Range And Variety
Dyson
Dyson offers a large variety of vacuum cleaners. These include cordless, upright, and hardwood-floor vacuums. The company also provides vacuum cleaner models that boast the latest technology.
These include the following:
Dyson V15 Detect: This vacuum cleaner comes with a laser to reveal microscopic dust so you can give your home a much more thorough clean.
Dyson Outsize: This gives you full-size cleaning without any cord getting in the way. It has double the suction power of any other cordless vacuum.
Dyson Omni-Glide: This is the slimmest vacuum cleaner by Dyson that's also the easiest to move around – it's ideal for hard floors.
Kirby
If you want to purchase a Kirby vacuum, there are some excellent options to consider. Kirby has come up with Kirby cleaning systems, which is quite innovative because these vacuum cleaners can be used with a variety of attachments to help you clean more items and surfaces around the home.
They can also be used to shampoo carpets. Here are some of the best cleaning systems.
The Kirby Avalir: This cleaning system is focused on providing customers with features to make cleaning their homes easier. These include LED headlights to clean in dark areas of the home; powerful suction and airflow; HEPA filtration; and a Multi-Surface Shampoo system that cleans a variety of floors including hardwood, tile, and vinyl. It also comes with TechDrive, a power-assist feature that makes it easy to move the vacuum cleaner around the home.
The Kirby Avalir: This vacuum cleaner offers high-powered suction, HEPA filtration, and it can be used as a handheld or canister vacuum cleaner. It can also be expanded for hard-floor polishing and shampooing your carpets, which makes it versatile.
Vacuum Accessories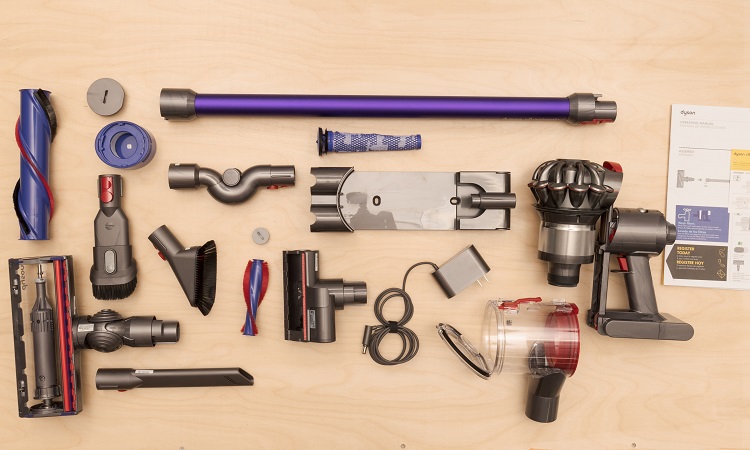 Dyson
Dyson offers accessories for all their types of vacuum cleaners.
Cordless vacuum cleaner accessories: Accessories that are available on all cordless vacuum cleaners from the Dyson models V7 and above include an extension hose, a light-pipe crevice tool (a crevice tool with LED lights), and a low-reach adaptor for cleaning underneath furniture. Some models also come with vacuum stands which makes storing your vacuum cleaner a breeze. These include the Dyson Floor Dock that accommodates the Dyson V15 Detect, Outsize, and V11 vacuums. There's also the Dyson Cyclone V10 Dock, which stores and recharges your Cyclone V10 vacuum cleaner, and it also comes with five extra tools for deeper home cleaning. You can also get replacement batteries for your cordless Dyson vacuum cleaner.
Corded vacuum cleaner accessories: Upright and canister Dyson models come with accessories that include a pet grooming tool that you can use on your medium- and long-haired dogs to prevent fur from ending up all over your home, a flexi-crevice tool that bends and can be extended when cleaning hard-to-reach spots in the home, and a mattress tool for cleaning your bed.
Here's a rundown of the other accessories you'll be able to enjoy with a corded Dyson vacuum cleaner.
Soft dusting brush. This brush has soft nylon brushes for cleaning delicate surfaces.
Extension hose. This adds 24 inches of reach to any tool attachment.
Reach-under tool. This bends, twists, and extends so you can remove debris in hard-to-reach areas. It also comes with a nylon brush head to clean larger debris.
Multi-angle brush. This bends at different angles and locks in place. It can accommodate any compatible tool for increased cleaning effectiveness in difficult-to-reach places.
Stubborn dirt brush. This brush has stiff nylon bristles to remove debris from carpets, car interiors, and high-traffic areas of the home.
Tangle-free turbine tool. This is designed with counter-rotating heads with brushes to remove hair from upholstery and carpets.
Carbon fiber soft dusting brush. This is made of dense carbon fiber filaments that prevent static so that fine dust can be captured.
Combination tool. This tool contains a brush and wide nozzle, so you can switch from one accessory to another during your cleaning session.
Kirby
Kirby vacuum cleaners also come with a wide variety of attachments and tools. Since your Kirby Home Cleaning System can vacuum, shampoo carpets, and polish hard floors, there are various accessories and kits you can purchase to make the most of its cleaning ability.
Here's a rundown of them:
Multi-surface shampoo system kit. This kit is used to clean hard floors and carpets. The carpet brush roll is used when shampooing carpets, while the rotary mop brush is used when cleaning hard floors.
Turbo accessory. This is an accessory you'll attach to your Kirby vacuum cleaner when you want to polish, sand, or scour surfaces.
Zippbrush. This accessory is an air-powered spinning brush. It works well to remove embedded debris such as pet hair with less hassle.
Tile & grout kit. This kit turns your vacuum cleaner into a tile and grout cleaner. It contains a brush roll to be used on tile and grout, a replacement belt, a 34-oz tile and grout cleaner, and a 4-oz tile and grout pretreat solution.
Miracle shine kit. This rotary mop is used with your Kirby Avalir Multi-Surface Shampoo System. It applies a thin layer of polymer to your floor so that it will shine. The kit contains the mop brush roll, a replacement belt, and a 32-oz miracle shine high gloss floor finish.
12-foot stretch hose. This hose basically extends up to 12 feet so you have more reach when cleaning the home. Note that there are also seven-foot Kirby vacuum hoses that you can buy.
Microfiber cleaning cloth. This cloth is ideal for cleaning a variety of surfaces in the home. It can be used wet or dry, it is washable and reusable up to 500 times, and it prevents streaks from forming.
Cost
Dyson tends to be more affordable than Kirby. You can find vacuum cleaner models that cost approximately $200. Kirby is more expensive. You'll be looking at paying between $1,000 and $3,000, depending on the distributor.
That's something to bear in mind, here. You have to purchase your Kirby through an authorized dealer. You can find Kirby dealers located in more than 50 countries throughout the world.
Warranty
Dyson: Every Dyson vacuum cleaner comes with a warranty, but the length of it will vary depending on the type of machine you have purchased. Cordless vacuums come with a two-year warranty, while corded vacuum cleaners have a five-year warranty.
Kirby: As for Kirby vacuum cleaners, every unit is backed by a three-year limited warranty. In order to qualify for the warranty benefits, you have to buy your Kirby from an authorized distributor or dealer via an in-home demonstration.
Environmental Awareness
Dyson
Dyson is committed to greater sustainability in the design and production of their vacuum cleaners. They make efficient products as a result of technological improvements that save energy.
Instead of making use of wasteful vacuum bags to collect dust and dirt, the invention of cyclonic technology makes vacuum cleaners more energy-efficient.

The vacuum cleaners have efficient batteries and motors. Their design also entails the use of fewer materials during the manufacturing process, which prevents waste of resources.
The vacuum cleaners contain stronger yet thinner plastics, which means that there's less material to recycle, and longer-lasting technologies such as LEDs.
Instead of using more material to manufacture vacuum cleaners in order to make them stronger and more durable, Dyson engineers opt for a process called Finite Element Analysis.
What this does is predict how a product will respond to real-world forces such as heat. This method ensures that durability doesn't depend on the use of thicker materials. Less is more!
Back in 1993, Dyson removed the dust bag from its DC01 vacuum cleaner. This was the first vacuum cleaner in the whole world to separate dust from air via centrifugal forces.
This prevented a loss of suction power in the machine as well as the use of a dusty bag and single-use consumables.
Kirby
One of the things that make Kirby vacuum cleaners eco-friendly is that they avoid plastic in their design. This prevents the use of plastic that can break, reducing your vacuum cleaner's lifespan, and ends up in landfills.

Some of its vacuum cleaners, such as the Kirby Avalir 2, draw less power from outlets – only 7 amps. This is much lower than what you'll find on many other vacuum cleaners.
This makes Kirby energy efficient. Kirby has also achieved a Gold Level Seal from the Carpet and Rug Institute (CRI) for some of its vacuums. This seal means the company meets the CRI's requirements for dust containment, soil removal, and appearance retention.
Another thing that makes Kirby sustainable is its lifespan. You can see some models lasting for up to 25 years, whereas a Dyson will usually last for between seven to 10 years.
However, it's worth noting that Kirby vacuum cleaners don't come in bagless options. This makes them less environmentally friendly than Dyson vacuums.
Related Questions
Why does your Kirby vacuum cleaner smell like it's burning?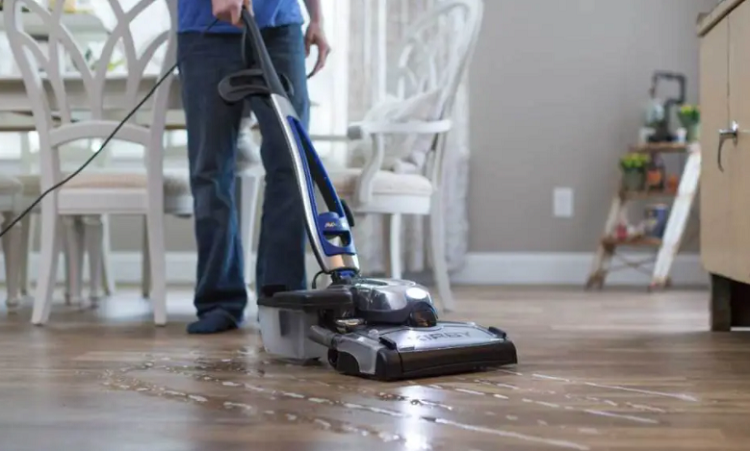 If your vacuum cleaner smells like it's burning and the indicator light is flashing, this means you have to replace its belt. You can do this yourself.
Which Dyson vacuum cleaner is the quietest?
The Dyson V11 Torque Drive is a good choice if you're looking for a quiet model. This cordless vacuum cleaner emits less noise than the V10, its predecessor, and the V8.
Conclusion
If you're looking for a high-quality vacuum cleaner, you'll naturally steer towards some of the best vacuum brands, such as Dyson and Kirby.
Which one is best? After reading this article, you now have a better idea of which one will clean your home effectively.