If you're looking for a high-quality vacuum cleaner, you have many to choose from. Two of the best vacuum cleaner brands are Shark and Bissell.

How are these brands similar? They both offer edge-cleaning technology as well as other great features in their vacuum cleaners, such as bagless and multi-level filtration features.

This is what makes it difficult to choose between the two. But don't worry. Our guide will help you make the right decision to give your home a thorough clean.
Shark vs Bissell: How Do They Stack Up?
To get a deeper understanding of both of these top vacuum brands, let's compare them according to different features and categories.
Brand Overview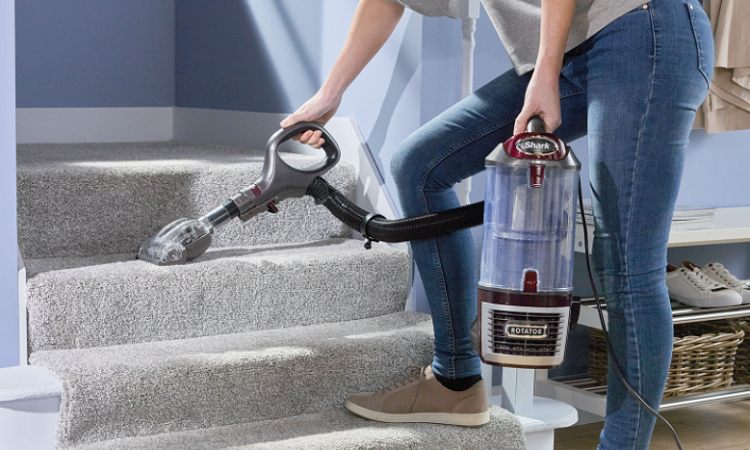 Shark
Shark is focused on giving customers features in vacuum cleaners that you won't see in many other models from competing brands. The brand is committed to innovation.
This is why Shark vacuum cleaners give you cutting-edge features. Shark's parent company, SharkNinja, which was established in 1995, operates from Massachusetts. You can get Shark vacuum cleaners in 10 countries.

The company has a range of products that are distributed through major retailers, specialty stores, and via their websites.
Bissell
Bissell is a brand that's committed to environmentally-friendly cleaners. This is a big part of their vacuum cleaner model lineup. Some of their models have half of their plastic material made out of recycled material.
The company is also committed to providing pets with homes, so when you purchase a vacuum cleaner from Bissell some proceeds will go to helping homeless pets.
Product Range
Shark
Shark offers a variety of vacuums. These are upright, robot, cordless, corded stick, canister, and handheld vacuum cleaners. The company also offers some wet and dry vacuum cleaner models, such as the Shark SV745 14-2/5 volt cordless wet/dry handheld vacuum.
Bissell
Bissell offers a variety of vacuum cleaners, such as upright, stick, cordless, canister, robotic, and handheld vacuum cleaners. You can also get wet and dry vacuum cleaners from the company, which makes it easier to suck up both wet and dry messes from the floor.
Vacuum Accessories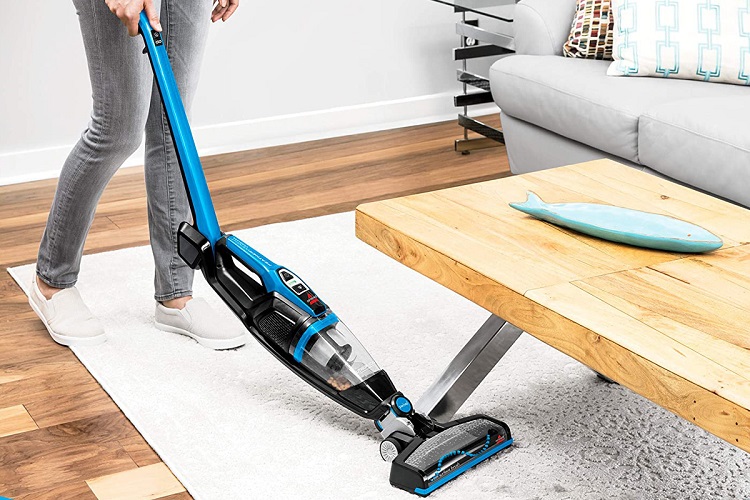 Shark
Shark offers a variety of accessories to fit your vacuum cleaner. These tools help you to make your cleaning chore much easier, such as when getting into hard-to-reach places of the home.
The attachments you'll get with your vacuum cleaner will vary depending on the model you own. Here's a rundown of some of the most common accessories.
Crevice tool: This helps you to get into tight corners, so it can work in the home as well as in the car. You might get a duster/crevice tool instead, which is a combination accessory. This enables you to slide the dusting brush to the end of the tool to remove dust from surfaces with its softer bristles.
Upholstery tool: As its name suggests, this tool works to clean your upholstery of dust and lint. It's a flat, wide accessory that can be used on curtains, cushions, and couches.
Pet tool: This comes with all Shark TruePet vacuum cleaners, or you can buy it separately. It removes pet hair from a variety of surfaces, such as rugs, stairs, sofa, and upholstery, thanks to its bristle brush-roll.
Under-appliance wand: This extendable wand increases your reach so you can clean underneath furniture and appliances. It has dusting bristles to prevent scratches to your items. You can also flip it to use it to clean on top of your shelves and cupboards.
Dusting brush: This accessory has short bristles to help you clean fine dust particles. It has a wide opening to enhance your vacuum cleaner's suction.
Anti-allergen dusting brush: This has soft angled bristles and soft felt, both of which clean dust on a variety of surfaces, such as ceilings, furniture, and blinds, without sending it into the air. This keeps your indoor air much cleaner and hygienic.
Canister caddy: Shark also offers a canister caddy that's meant for upright vacuum cleaners which have the Lift-Away feature. This prevents you from having to carry the canister in portable mode. It's a caddy that comes with wheels so you can move your vacuum to where you want it much easier.
Bissell
Just like with Shark, Bissell offers many attachments for their vacuum cleaners, such as crevice tools, dusting brushes, crevice tool/dusting brush combination tools, upholstery tools, and an extended tool reach.
Some of their other parts and accessories include the following:
Wide mouth tool: This tool works with handheld vacuum cleaners. It's wider to enable you to pick up larger debris.
Deluxe bare floor tool: This vacuum cleaner head is suitable for some Lift-Off upright bagless vacuum cleaners.
Pet contour tool: This tool helps you to pull up pet hair from upholstery and hard-to-reach areas, such as the stairs. It has a rubber facing that flexes so you can get into tight areas.
Pet hair corner tool: Designed in the shape of a triangle, this pet hair tool is ideal for fitting into corners.
Long reach dusting tool: This tool is suitable for upright vacuum cleaners. It's long so that it can get into difficult-to-reach areas.
Three-in-one stair tool: This accessory is ideal for cleaning your stairs. It sprays, scrubs, and sucks up dirt, and is meant to fit the hose of upright or portable carpet cleaners.
Nozzle cleaning tool: This tool, which accommodates upright vacuum cleaners, is meant to clean debris from the floor nozzle of your vacuum cleaner, therefore keeping it in good condition.
Pricing & Warranty
While the price you can expect to pay for a Shark or Bissell vacuum cleaner will depend on the model, generally you can expect to pay around $30 to $80 more for a Shark model.
Shark: The warranty for a Shark vacuum cleaner will vary a lot depending on the type and model you have. For example, some models will come with a five-year warranty that covers defects in workmanship or material. Others will have a one-year warranty.
Bissell: A Bissell vacuum cleaner's warranty also varies. All products do come with a minimum of one year's manufacturer guarantee, though.
Pet Hair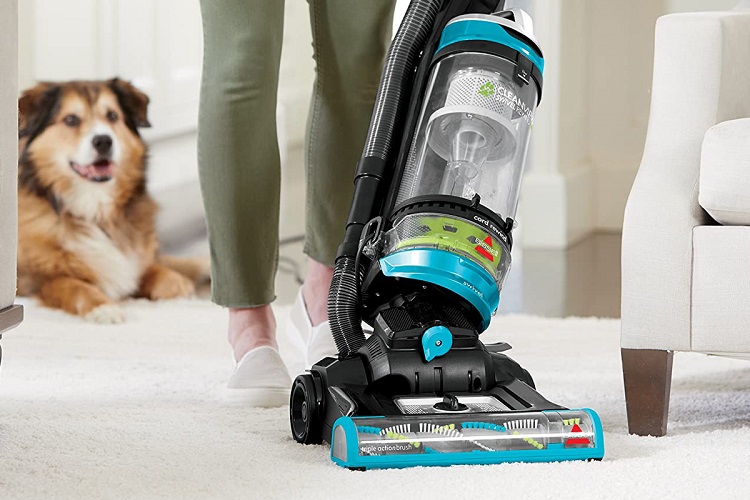 The ability to pick up pet hair has become an important feature of vacuum cleaners, and sometimes it can either be what makes you choose a specific model over others or give one a miss in favor of something else on offer.

To find out which brand removes pet hair better, let's compare two competing models: the Shark Rotator Powered Lift-Away Upright model vs the Bissell Pet Hair Eraser Turbo Plus.

While both of these are good vacuum cleaners, fitted with HEPA anti-allergy filters and they're both bagless, the Shark model is easier to maintain and it has a higher dirt bin capacity, which means you can empty it out less regularly.
It also works better on a variety of surfaces in the home.
Eco-Friendliness
Shark
Shark has some of the most eco-friendly vacuum cleaners on the market. An example is its Shark Rotator Professional Vacuum NV501, which emits a low amount of noise while being completely bagless. It contains a HEPA filter to collect 99.9 percent of allergens and dust in the home and a large-capacity dust cap.
It's a solidly built vacuum cleaner that has a strong wand, so its durability is sure to make it last a long time, keeping it sustainable.
As for the company itself, SharkNinja is committed to being more sustainable. As of 2020, it declared that 98 percent of its products across its lineup contain packaging that's made out of 95-percent recyclable material.
Bissell
Bissell is a company that's committed to having sustainable business practices. When it comes to their vacuum cleaners specifically, Bissell uses technology to make their vacuum cleaner motors more efficient while saving over 25 percent of electricity usage as compared to their traditional motors.

To prevent the use of too much material during the manufacturing process, the company makes use of design technology. This uses less material without compromising on durability.
One of the best Bissell vacuum cleaners when it comes to sustainability is the Adapt Ion Pet vacuum cleaner. This is a cordless model that's a hybrid/upright vacuum. Even though it's made out of plastic, it's sturdy and well-built.
It has a simple design that makes it easy for you to assemble or switch into handheld or upright mode, which is also sure to make it last for a long time.
It's bagless and comes with a pre-motor mesh filter, dirt cup filter, and mesh filter screen, all of which can be replaced if needed, but otherwise, it doesn't come with any recurring costs.
Bissell has donated at least $1 million in the year 2018 alone via pet product sales in order to support the Bissell Pet Foundation. This is another way in which the company is serving the planet.
Best Shark Vacuum Cleaners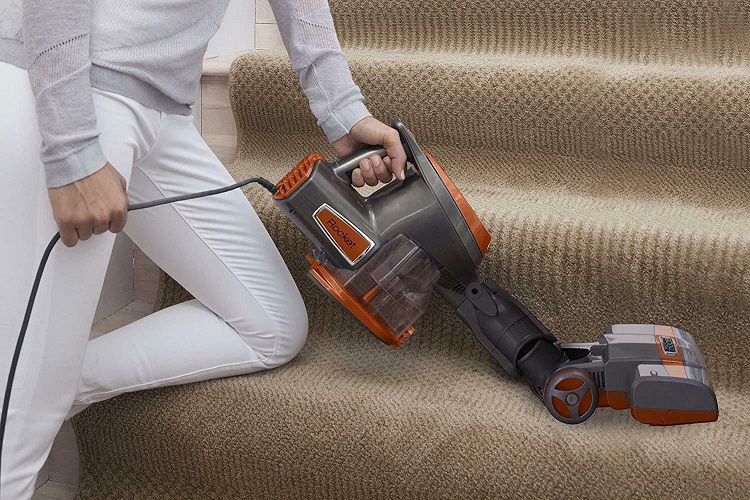 If you've decided to choose a Shark vacuum cleaner, here are two of the best models.
Shark Rocket HV301
This upright vacuum cleaner weighs less than eight pounds so it's easy to carry around the house. It also converts into a hand vacuum for above-floor cleaning. It comes with a Dust-Away attachment and a microfiber pad, so you can eliminate more debris and fine dust particles.
It has swivel steering to make it easy to move around the home and works well to clean your hard floors and carpets with greater ease and no loss of suction power. It's easy to move from hard floor to carpet mode via user-friendly fingertip controls.
This popular Amazon vacuum cleaner has powerful suction to clean carpets and floors, and it also offers lift-away functions – just detach the pod so you can clean underneath furniture, or detach the nozzle so that you can clean above the floor, such as on the stairs. This makes it a versatile vacuum cleaner.
To keep your indoor air cleaner, it makes use of Anti-Allergen Complete Seal Technology with a HEPA filter installed so that allergens and dust particles are stored inside the machine. This vacuum cleaner is easy to assemble and works well to pick up pet hair.
Best Bissell Vacuum Cleaners
Bissell Zing Lightweight Canister Vacuum
This vacuum cleaner is light and user-friendly that's completely bagless for even greater convenience. It weighs just 10 pounds so you can easily move it around the home.
It's one of the most affordable vacuums from the company and has many features to make it a worthwhile purchase.
It has a switch that allows it to easily convert from cleaning carpets to cleaning hard floors, it has a two-liter dust cap capacity, and it makes use of cyclonic action as well as powerful suction to give your home a deeper clean.
Bissell CleanView Bagless Vacuum
This upright Bissell vacuum cleaner makes cleaning your home a much easier chore, thanks to its OnePass technology that ensures you can clean more debris with just one pass of the vacuum cleaner.
It also has scatter-free technology to prevent dirt from scattering on your floor. With an onboard storage unit for tools and accessories, this vacuum cleaner is designed to be as user-friendly as possible.
Related Questions
Are Shark and Bissell vacuum cleaners reliable?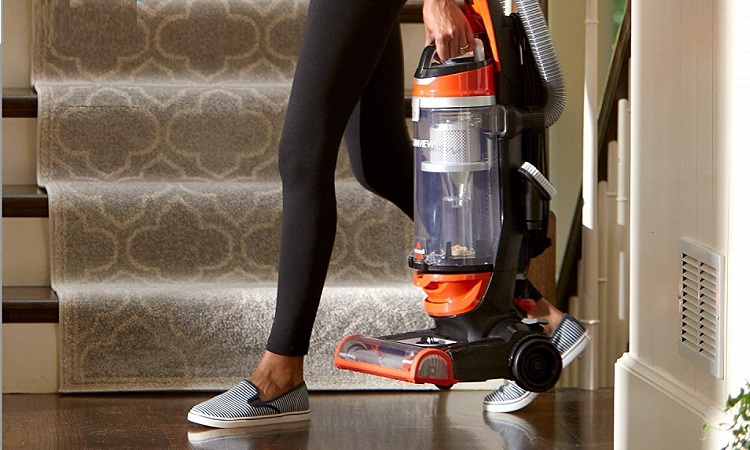 Research has found that both of these brands have achieved an "excellent" rating for brand reliability.
How much money should you spend on a vacuum cleaner?
You should aim to spend no less than $150 on a new vacuum cleaner to ensure you get a quality product (via Today). A vacuum cleaner is essential so you want a reliable, quality product that will clean your home thoroughly and keep it hygienic.
Conclusion
If you're looking for a high-quality vacuum cleaner, you'll have to choose between Shark and Bissell models. Which company should you support?
In this article comparison, we've featured everything you need to know about Shark vs Bissell, looking at features such as vacuum cleaner sustainability, available accessories, and price.